Name Of Second Album Announced As Vallenfyre Enters Studio
U.K.'s Vallenfyre, featuring Paradise Lost's Gregor Mackintosh, has officially entered the studio to record their second full-length album entitled "Splinters." The album is expected for release in May 2014 via Century Media Records.
Mackintosh (vocals and lead guitars) commented: "We have now arrived in a very cold Salem, MA and are currently holed up in Godcity Studio with producer Kurt Ballou tracking drums for our second album, 'Splinters'. We are really digging Kurt's honest, old-fashioned approach to recording. No triggers or samples. Just a good drum kit, good mics and a good drummer."
In 2011, Gregor Mackintosh (Paradise Lost) announced that he would go back to his death metal roots with his new band, Vallenfyre. The level of expectation was set high with a line-up consisting of Hamish Glencross (guitar; My Dying Bride), Scoot (bass; Doom), Adrian Erlandsson (drums; At the Gates/Paradise Lost/The Haunted. The debut, "A Fragile King," was a reference to Gregor's father's (lost) battle with cancer.
More information on the album is expected soon.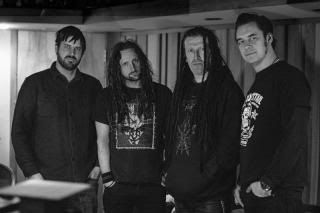 What's Next?
Please share this article if you found it interesting.
---
0 Comments on "Vallenfyre Enters Studio, Announces Name Of New LP"
Be the first to comment! Tell us what you think. (no login required)
To minimize comment spam/abuse, you cannot post comments on articles over a month old. Please check the sidebar to the right or the related band pages for recent related news articles.