GWAR To Broadcast "Fate Or Chaos" Show On AXS TV
Band Photo: Gwar (?)
Mutant Overlords GWAR will be taking over the airwaves of AXS TV to bring to you - the human scum - a live broadcast transmission from one of their upcoming performances.
GWAR's "Fate or Chaos Tour 2013" will be aired live on AXS TV on April 17th at The Gothic Theater in Denver, Colorado. The broadcast will air at 12:00 AM EST/ 9:00 PM PST. AXS TV is available on DIRECTV Channel 340, DISH Network Channel 362, AT&T U-Verse Channel 1106, and Verizon FiOS Channel 569. For additional affiliate and distributor channel information including Charter, Comcast Xfinity, Suddenlink and others please visit this location.
There will be contests and giveaways on the GWAR tab of the AXS TV website at this location. Quoteth the warty one, Oderus Urungus, lead singer of GWAR:
"The Fate or Chaos show is the most spectacular show we have done since the one we did before this one, and that one was awesome, even though I can't remember what it was. Now GWAR's struggle against your angry God is to be broadcast live by AXS TV and preserverd for all eternity, an undying testimony to the undimmed majesty of the world's most outrageous rock and roll band…the mighty GWAR!"
This show is part of the second leg of the "Fate or Chaos" tour which features support of Warbeast and Wilson. A complete list of dates can be found below. Before the tour stars, GWAR will be debuting the signature "GWAR-B-Q" sauce at a colossal "Meat & Meet" at the world famous "Grinders" in Kansas City on Monday April 8th from 4-6 PM.
4/10: Tucson, AZ @ Rialto Theatre
4/11: San Diego, CA @ House of Blues
4/12: Las Vegas, NV @ Hard Rock Cafe - The Strip
4/13: Ventura, CA @ Majestic Ventura Theatre
4/14: Reno, NV @ Knitting Factory
4/15: Salt Lake City, UT @ The Complex
4/16: Grand Junction, CO @ Mesa Theater & Club
4/17: Englewood, CO @ Gothic Theatre
4/18: Lincoln, NE @ Bourbon Lounge
4/19: Des Moines, IA @ Wooly's
4/20: Tulsa, OK @ Cain's Ballroom
4/21: Little Rock, AR @ The Rev Room
4/22: Nashville, TN @ Marathon Music Works
4/23: Greenville, SC @ The Handlebar
4/24: Orlando, FL @ Beacham Theater
4/25: Jacksonville, FL @ Free Bird Live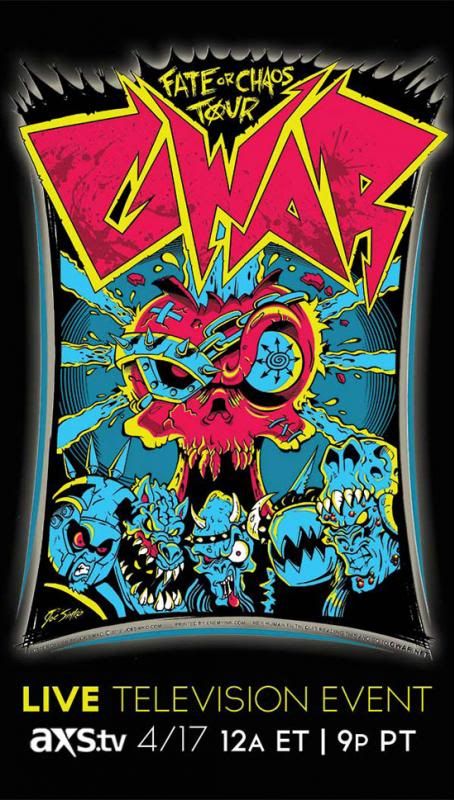 What's Next?
Please share this article if you found it interesting.
---
To minimize comment spam/abuse, you cannot post comments on articles over a month old. Please check the sidebar to the right or the related band pages for recent related news articles.