Interview
Starkill's Parker Jameson Talks Debut Album "Fires Of Life," Upcoming Tour Dates
Just bursting onto the scene and newly signed to Century Media, Illinois act Starkill is getting ready to drop a debut full-length album. "Fires of Life" is due out April 29th in Europe and April 30th in North America via Century Media Records.
This young act is already gearing up to assault the U.S. metal masses, hitting the road next month with Hypocrisy and Krisiun. With anticipation building and the band excited to take to the national stage, vocalist Parker Jameson checked in with Metalunderground to share Starkill's plans for metal domination.
Read our interview below to discover how the band came together, how the artwork for the new album was crafted, and what will be happening in the future for this rising act.
xFiruath: Starkill is a newer band, so can you fill me in on your history and getting signed with Century Media?
Parker: We're all pretty young, our drummer is 18, our bass player is 20, and then me and the guitar player are both 22. Me and my brother, he's the drummer, we wanted to do the band thing since we were in our younger teens. There weren't a whole lot of similar minded musicians in the area, so I went to Indiana University, they have a really sweet music program, where I met our other guitar player. We had a different live bass player we also met on campus, and the four of us started playing and gigging around the Midwest under a couple different names. We released a couple music videos and handing demos out to build up an online presence, and that attracted the attention of Century Media.
xFiruath: Tell me about your upcoming tour dates with Hypocrisy.
Parker: Yeah, we are going to support Hypocrisy with Aborted and Arsis. The first date is May 1st in New York City. We're riding with them for the first half of the tour.
xFiruath: Let's get into the new album a bit. How did the recording go and where did it take place?
Parker: When we had recorded an EP under a different name in the past we used an engineer named Charles who had a studio in Illinois. He's worked with Oceano and a bunch of cool bands. We went back to him and it worked out really well.
xFiruath: This is your debut album and there's a few songs out there, but for the most part people haven't had a chance to hear the album. Can you describe the sound of Starkill for me?
Parker: It's melodic death metal, but tinged with a lot of speedy power metal and weird black metal moments. New fans describe us as Children of Bodom meets Dethklok meets Dimmu Borgir. Which I guess sums it up pretty well.
xFiruath: What's the theme of this album?
Parker: It's a medieval/fantasy themed lyrical type of vibe, almost like DragonForce. That's kind of how our sound is, it's mostly battle and death themes.
xFiruath: Explain the artwork to me – who put it together and what's happening with it?
Parker: We had Joshua Bellinger do it, who has done artwork for other bands. We described it in very casual terms with him over email about how we wanted a really epic looking warrior on the front on a certain position to kind of reflect the overall feeling of conquest and slaughter that's all over our album. He managed to make it look really awesome with that kind of fantasy vibe that's in our songs.
xFiruath: You guys released a music video for the title track that has some studio footage. How did that come together?
Parker: It's not really a story based music video, we had some film guys I knew from school come into the studio over the course of recording "Fires of Life." They made a montage of everything going on in the studio as well as us hanging out. We'd been inactive on Facebook for awhile so we wanted to give the fans kind of a visual documentary of what we'd been up to for the whole summer. We are in the process of working on some other music videos as well for the near future that are less studio themed and more music video.
xFiruath: Now that the album's coming out and you've got the tour scheduled, what will be going on next for Starkill?
Parker: We are looking into a lot of really cool tours that are in the works, so I can't really release any details on that yet. We are planning on touring as much as possible to support the album, as well as video work to get it out there. We're trying to get our music heard everywhere physically and on the Internet.
xFiruath: What's going on locally for your music scene?
Parker: We live in Cary, Illinois which is a suburb of Chicago. Our bass player lives in Fox River Grove, which is ten minutes down the road. The Midwest is plagued by deathcore. There's not too much going on for melodic death metal as far as local bands. When we do play we're kind of an outlier, or we have to bring in our own crowd. But we're mostly gearing up for this tour so we haven't really been avoiding the scene, just practicing for bigger shows.
xFiruath: What are you looking forward to that's coming out this year?
Parker: Children of Bodom is one of the reasons that me and Spencer got into this kind of music, I think they just finished recording a new one. I think Amon Amarth is in the studio now too, so that should be cool. Trivium might be doing something, those are probably the ones I'm most looking forward to.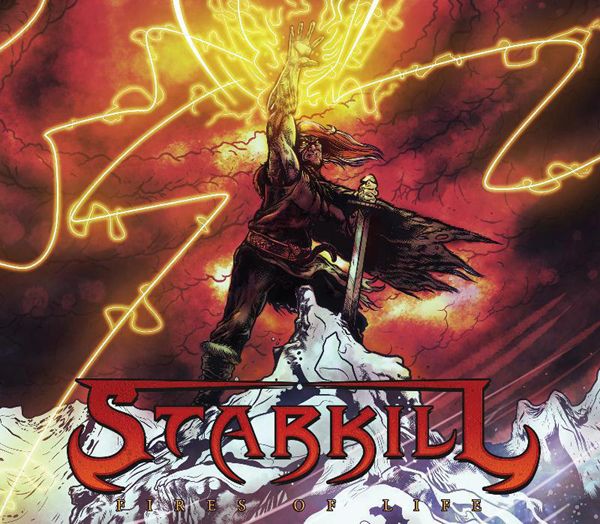 Ty Arthur splits his time between writing dark fiction, spreading the word about underground metal bands, and bringing you the latest gaming news. His sci-fi, grimdark fantasy, and horror novels can be found at Amazon.
What's Next?
Please share this article if you found it interesting.
---
0 Comments on "Starkill Talks Debut Album, Upcoming Tour"
Be the first to comment! Tell us what you think. (no login required)
To minimize comment spam/abuse, you cannot post comments on articles over a month old. Please check the sidebar to the right or the related band pages for recent related news articles.