Children Of Bodom Reveals New Album "Halo Of Blood" Details
Band Photo: Children of Bodom (?)
Finnish heavy metal superstars Children of Bodom have set "Halo of Blood" as the title of their eighth studio album, set for a June 11th North American release via Nuclear Blast Records.
Today, Children of Bodom unveils the cover art, created by artist Sam Saramäki, known for his work on the classic COB records "Follow the Reaper," "Are You Dead Yet?" and "Hate Crew Deathroll."
Children of Bodom recorded "Halo of Blood" in Finland's Danger Johnny Studios with recording engineer Mikko Karmila, who worked with the band on earlier albums "Hatebreeder," "Follow the Reaper," and "Hate Crew Deathroll" and producer Peter Tägtgren (Marduk, Amon Amarth) who oversaw production of both vocals and keyboards on the record. The album will be mixed at Finnvox Studios.
Frontman Alexi "Wildchild" Laiho comments: "Halo Of Blood is the eighth studio album from Children of Bodom. Musically, we've kept it fresh and new while still maintaining the elements that make COB's sound so recognizable. This new album has both the fastest and the slowest songs we've ever made and lyrically, there are themes we've never touched on before. Prepare yourselves for ten tracks of pure Nordic metal!"
The track listing is as follows:
1. Waste of Skin
2. Halo of Blood
3. Scream for Silence
4. Transference
5. Bodom Blue Moon (The Second Coming)
6. The Days are Numbered
7. Dead Man's Hand on You
8. Damage Beyond Repair
9. All Twisted
10. One Bottle and a Knee Deep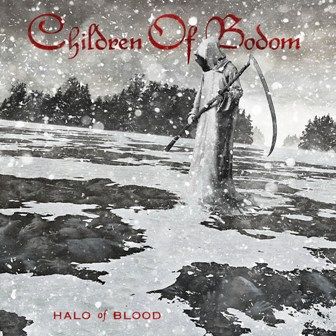 What's Next?
Please share this article if you found it interesting.
---
To minimize comment spam/abuse, you cannot post comments on articles over a month old. Please check the sidebar to the right or the related band pages for recent related news articles.