Peter Steele Commemorated With Tree Planting In Brooklyn Park
Band Photo: Type O Negative (?)
A tree was planted in the name of late Type O Negative frontman Peter Steele on Monday, November 21st. Steele was an employee/heavy equipment operator for the New York Department of Parks before his career took off with Carnivore. Steele became manager of Brooklyn Heights Promenade Park, and the fans have commemorated it with this tree at Prospect Park.
Said former Type O Negative drummer Johnny Kelly, "[The oak tree planting is] something that's been a long time in the making. A lot of fans took it upon themselves to do something special for Peter. It is something that is in the true spirit of what Peter was about and who he was. This Peter truly would've appreciated."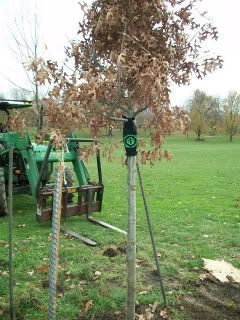 Metalunderground.com also released a digital tribute album to Peter Steele earlier this year titled "All For None, None For All: A Tribute To Peter Steele." Details are available by clicking here.
What's Next?
Please share this article if you found it interesting.
---
To minimize comment spam/abuse, you cannot post comments on articles over a month old. Please check the sidebar to the right or the related band pages for recent related news articles.