A Pale Horse Named Death Streaming New Song "Heroin Train"
Band Photo: A Pale Horse Named Death (?)
SkullsNBones.com is hosting an exclusive stream of the new track "Heroin Train" from A Pale Horse Named Death. The track is taken from the band's debut album "And Hell Will Follow Me," which will be released June 14th on SPV/Steamhammer. The track can be streamed at this location.
A Pale Horse Named Death is the brainchild of Brooklyn, NY native Sal Abruscato. Sal's partner in crime on "And Hell Will Follow Me" is Matt Brown, sound engineer extraordinaire and guitarist of fellow NY band Seventh Void. "The chemistry between me and Matt is unique and flawless very rare in today's music. We are the murdering evil version of Lennon and McCartney." says Abruscato.
Brown adds, "Sal asked me if I would help to take these songs to the next level. I took on this project for my friend, to find some closure in rough times. The music is just an extension of our friendship and our passion for creativity."
The album artwork was done by Sam Shearon aka Mr. Sam, who has previously done work for Rob Zombie, Fear Factory and Cradle of Filth to name a few, and features a 20 page booklet with artwork for each individual song. Additionally, the Double LP version will feature a never before heard bonus track called "Pick Up Truck."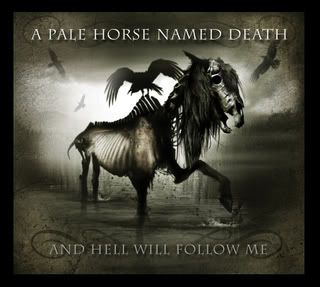 What's Next?
Please share this article if you found it interesting.
---
To minimize comment spam/abuse, you cannot post comments on articles over a month old. Please check the sidebar to the right or the related band pages for recent related news articles.