Autopsy Posts New Album "Macabre Eternal" Artwork
Band Photo: Autopsy (?)
San Francisco Bay Area death metal act Autopsy recently finished recording the band's fifth studio album, "Macabre Eternal," which is due out May 31st on Peaceville Records. You can now check out the album's cover artwork below.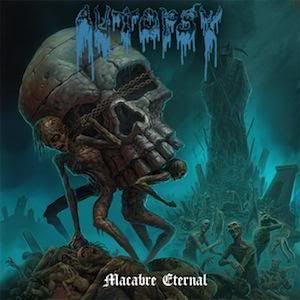 The track listing is as follows:
1. Hand Of Darkness
2. Dirty Gore Whore
3. Always About To Die
4. Macabre Eternal
5. Deliver Me From Sanity
6. Seeds Of The Doomed
7. Bridge Of Bones
8. Born Undead
9. Sewn Into One
10. Bludgeoned and Brained
11. Sadistic Gratification
12. Spill My Blood
What's Next?
Please share this article if you found it interesting.
---
To minimize comment spam/abuse, you cannot post comments on articles over a month old. Please check the sidebar to the right or the related band pages for recent related news articles.