Cannibal Corpse Releases "Make Them Suffer" Flexi Disc
Band Photo: Cannibal Corpse (?)
The June issue of Decibel Magazine features an exclusive live Cannibal Corpse flexi disc, featuring a live version of "Make Them Suffer." Subscribers have already received their copy in the mail, but if you're not a subscriber, limited quantities of the issue can be purchased at this location.
Additionally, fans can stream "Make Them Suffer" right here.
After the maiden voyage in 2012, Decibel Magazine is doubling down on veteran star power for a second annual national tour. This spring, the plague spreads as Decibel brings you three living legends of death metal and grindcore: the preeminent gore institution Cannibal Corpse; rabble-rousing U.K. grind icons Napalm Death, and NYDM stalwarts Immolation.
"We're psyched to be headlining this year's Decibel Magazine Tour along with Immolation and Napalm Death," says Cannibal Corpse bassist Alex Webster. "This is a lineup of bands that have been a consistent part of the death/grind scene for decades, and we're proud to be a part of it. It will be a legendary night for extreme music."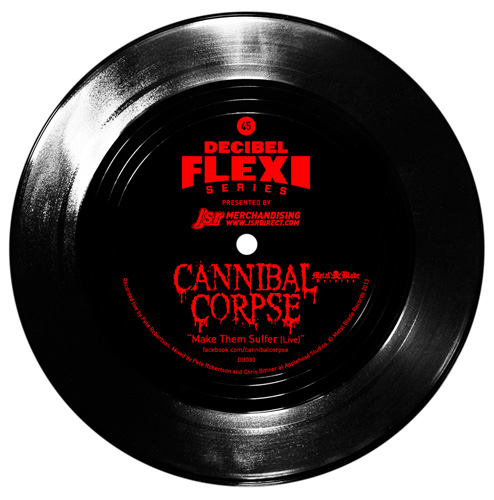 What's Next?
Please share this article if you found it interesting.
---
0 Comments on "Cannibal Corpse Releases Flexi Disc"
Be the first to comment! Tell us what you think. (no login required)
To minimize comment spam/abuse, you cannot post comments on articles over a month old. Please check the sidebar to the right or the related band pages for recent related news articles.