Cathedral Reveals Details On "The Last Spire"
British doom legends Cathedral will release their final studio album, "The Last Spire", on April 29 via Rise Above Records. Produced by Lee Dorrian and Garry Jennings, with assistance from Jaime Gomez Arellano, the CD will feature the following track listing:
01. Entrance To Hell
02. Pallbearer
03. Cathedral Of The Damned
04. Tower Of Silence
05. Infestation Of Grey Death
06. An Observation
07. The Last Laugh
08. This Body, Thy Tomb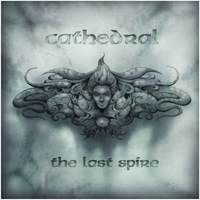 A new track from the band, "Vengeance of the Blind Dead," is streaming below. This song will not be featured on the album and was part of Decibel Magazine's February flexi-disc series.
What's Next?
Please share this article if you found it interesting.
---
To minimize comment spam/abuse, you cannot post comments on articles over a month old. Please check the sidebar to the right or the related band pages for recent related news articles.