Master Posts Tour Dates With Sacrificial Slaughter And Fisthammer
Old School death metal legends Master have announced a 32 date US trek with California death thrashers Sacrificial Slaughter. The 32 date journey will kick off in Los Angeles as part of the "Age ov the Gods" Metalfest on March 1st and end in Long Beach, CA on April 1st. Support will be provided by Philadelphia's up and coming death metal outfit Fisthammer.
Other notable appearances include Master's return to Chicago March 11th, the "Philthadelphia Infest" w/ Devourment on March 16th, "Masters of Death" festival w/ Incantation March 23rd and the tour's only stop south of the border at "Baja Deathfest VII" in Mexicali.
"NORTH AMERICAN DETONATION TOUR"
MASTER - SACRIFICIAL SLAUGHTER - FISTHAMMER
Fri. March 1st - Los Angeles, CA @ The Joint
Sat.March 2nd - Oakland, CA @ Oakland Metro
Sun.March 3rd - Portland, OR @ The Branx
Mon.March 4th - Seattle, WA @ 2 Bit Saloon
Tue. March 5th - Boise, ID @ The Shredder
Wed.March 6th - Salt Lake City, UT @ The Complex
Thu. March 7th - Cheyenne, WY @ Forum 619
Fri. March 8th - Topeka, KS @ The Boobie Trap
Sat.March 9th - St. Louis, MO @ Fubar
Sun.March 10th - Madison, WI @ The Frequency
Mon.March 11th - Chicago, IL @ Reggie's Rock Club
Tue. March 12th - Warren, MI @ The Ritz
Wed. March 13th - Rochester, NY @ Bug Jar
Thu. March 14th - Providence, RI @ Firehouse 13
Fri. March 15th - Brooklyn, NY @ Saint Vitus Bar
Sat. March 16th - Philadelphia, PA @ Gunners Run
Sun. March 17th - Baltimore, MD @ Ottobar
Mon. March 18th - Asheville, NC @ Static Age Records
Tue. March 19th - Dothan, AL @ Herman's Billiards
Wed.March 20th - New Orleans, LA @ Siberia
Thu. March 21st - Fort Worth, TX @ Tomcats West
Fri. March 22nd - Oklahoma City, OK @ Chameleon Room
Sat. March 23rd - Houston, TX @ BFE Rock Club
Sun. March 24th - Austin, TX @ Beerland
Mon. March 25th - San Antonio, TX @ Zombies
Tue. March 26th - Midland, TX @ Pine Box
Wed.March 27th - Albuquerque, NM @ Launchpad
Thu. March 28th - Tucson, AZ @ The Rock
Fri. March 29th - Mexicali, MX @ Bar El Andariego
Sat. March 30th - Pomona, CA @ Characters Sports bar
Sun. March 31st - Oceanside, CA @ The Royal Dive *
Mon.April 1st - Long Beach, CA @ Alex's Bar *
* = NO Fisthammer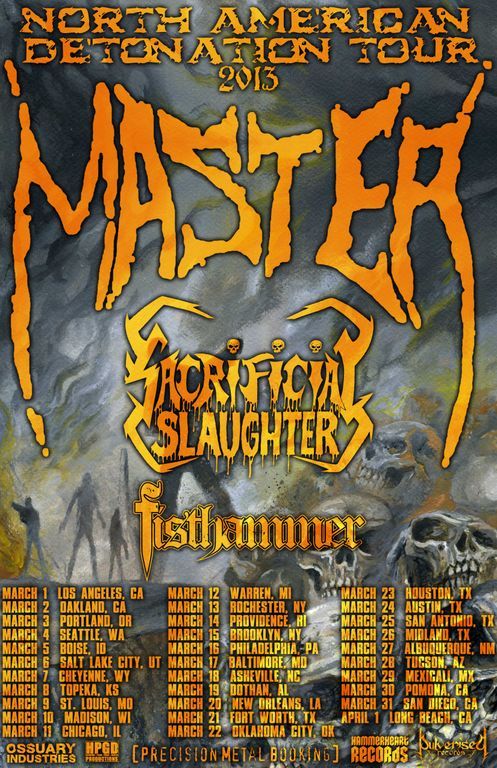 What's Next?
Please share this article if you found it interesting.
---
To minimize comment spam/abuse, you cannot post comments on articles over a month old. Please check the sidebar to the right or the related band pages for recent related news articles.