Necrophagia Announces "Deathtrip 69" Album Details
Gore metal pioneers Necrophagia will be back with a new album on May 16th (one day later in North America). "Deathtrip 69," the band's fifth official full-length was recorded at Last House On The Left Studios in Ohio, USA. The recording was produced by Killjoy and guitarist Boris Randall. The cover concept and title track are based on the "Manson Family" ordeal of the late 1960's. You can check out the cover below.
The "Deathtrip 69" track listing is as follows:
1. Naturan Demonto
2. Beast with Feral Claws
3. Tomb with a View
4. Suffering Comes in Sixes
5. A Funeral for Solange
6. Kyra
7. Bleeding Eyes of the Eternally Damned
8. Trick R' Treat (The Last Halloween)
9. Deathtrip 69
10. Death Valley 69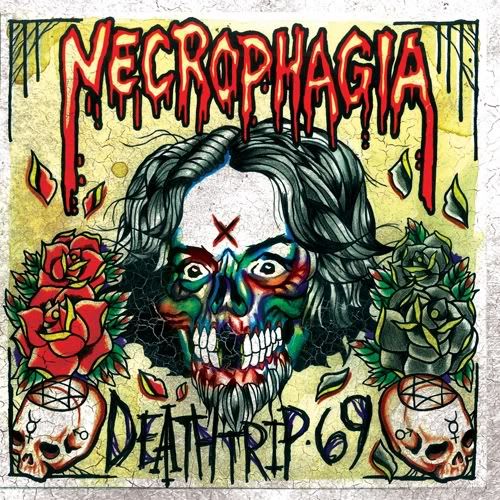 What's Next?
Please share this article if you found it interesting.
---
0 Comments on "Necrophagia Announces 'Deathtrip 69' Details"
Be the first to comment! Tell us what you think. (no login required)
To minimize comment spam/abuse, you cannot post comments on articles over a month old. Please check the sidebar to the right or the related band pages for recent related news articles.