Blutmond To Tour With Vulture Industries And Dordeduh
Innovative extreme metal bands Vulture Industries, Dordeduh, and Blutmond are set to hit the road together during May on an eleven date tour that will take in countries such as the Czech Republic, Slovakia, Romania, Bulgaria, Hungary, Greece and Slovenia.
As well as tickets being available from the usual ticketing agencies, special personalized tickets designed by the Romanian artist Costin Chioreanu will be sold exclusively through the webshops of the individual bands. Each ticket will feature the name of the purchaser and will be signed by all the bands.
The "Branches" tour dates are as follows:
21 May: Modra Vopice, Prague (CZ)
22 May: Melodka, Brno (CZ)
23 May: Tirish Pub , Banska Bystraica (SK)
24 May: Blue Hell, Budapest (HUN)
25 May: Daos Club, Timisoara (RO)
26 May: TBA, Cluj (RO)
27 May: Fabrica Club, Bucharest (RO)
28 May: 8 Ball Club, Sofia (BUL)
29 May: Eightball Club, Thessaloniki (GR)
30 May: TBC
31 May: MC Pekarna, Maribor (SLO)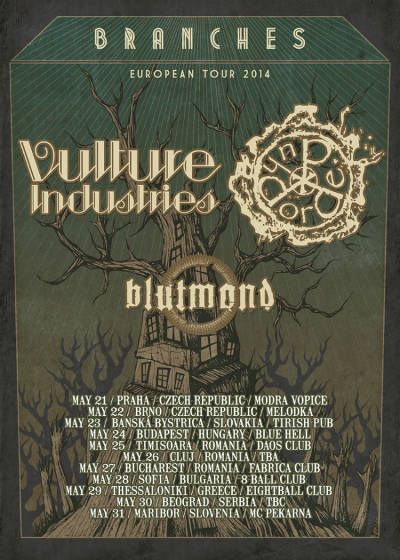 What's Next?
Please share this article if you found it interesting.
---
0 Comments on "Blutmond To Tour With Vulture Industries"
Be the first to comment! Tell us what you think. (no login required)
To minimize comment spam/abuse, you cannot post comments on articles over a month old. Please check the sidebar to the right or the related band pages for recent related news articles.