Psychosomatic
From: unknown
Last Known Status: Unknown
Latest Psychosomatic News
Below is our complete Psychosomatic news coverage, including columns and articles pertaining to the band. Some articles listed may be indirectly related, such as side projects of the band members, etc.
New Jersey-based thrash n' roll heathens Hammer Fight have recently completed their full-length debut entitled "Chug of War." The album, which follows the band's 2011 self-titled EP, was recorded by Bobby Torres at The Machine Shop in Belleville, NJ. Chug of War features new guitarist Ryan Blackman, who stepped in to replace Rob Guidotti after his departure last fall. Artwork for Chug of War came from a collaboration between Hammer Fight bassist/vocalist Drew Murphy and Buz Hasson,
tattoo artist and co-creator of the comic book "The Living Corpse." Label and release date information for Chug of War will be announced in the coming months.
Hammer Fight has just posted its cover of Iron Maiden's "Be Quick or Be Dead" on its official StereoKiller page and will start posting new material from "Chug of War" on Monday, February 11th. Visit Stereokiller to check out the tunes. On April 4th, Hammer Fight will kick off their Spring 2013 Tour, which will take the band out of its native New Jersey and across the Midwest for a string of dates before hooking up with California skate thrash legends Psychosomatic. Dates are as follows, along with the cover art of "Chug of War" and the new track:
HAMMER FIGHT Only
4/04 - Seacaucus, NJ @ The Blue Room
4/05 - Albany NY @ Trick Shots
4/06 - Rochester NY @ Bugjar
4/07 - Akron OH @ Annabell's Lounge
4/08 - Chicago IL @ TBA
4/09 - Topeka, KS @ The Boobie Trap
4/10 - Joplin, MO @ Cesspool Castle
4/11 - Oklahoma City OK @ The Chameleon Room
HAMMER FIGHT w/PSYCHOSOMATIC
4/12 - San Antonio TX @ Bonds007
4/13 - Austin TX @ White Swan
4/14 - Dallas TX @ TBA
4/15 - Houston TX @ White Swan
4/16 - Baton Rogue LA @ TBA
4/17 - Atlanta GA @ TBA
4/18 - Raleigh NC @ Slim's
4/19 - Chesapeake VA @ Rodger's Sports Pub
4/20 - Richmond VA @ Strange Matter
4/21 - Frederick, MD @ Lallo's
4/22 - Baltimore MD @ The Sidebar Tavern
4/23 - Atlantic City NJ @ Bull Shots
4/24 - Providence RI @ Dusk
4/25 - Allston MA @ Obrien's Pub
4/26 - Philadelphia PA @ JR's Bar
4/27 - New York, NY @ TBA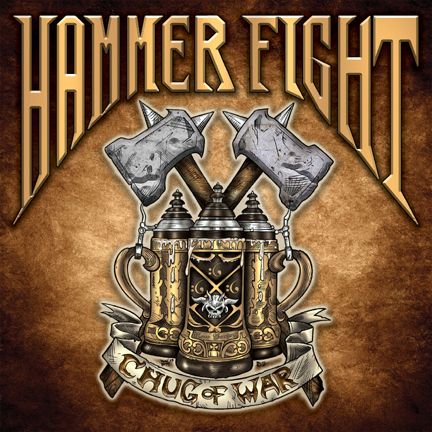 Sacramento, California-based crossover punk thrashers Psychosomatic have kicked off their Fall 2012 Tour. With the hangovers from their mid-August West Coast run with Hammer Fight finally subsided, Psychosomatic are back in action with a 20-date trek that kicked off Thursday night in Reno, Nevada. Dates are as follows:
10/08 DENVER CO @ Old Curtis St.
10/09 TOPEKA KS @ Boobie Trap
10/10 ST LOUIS MO @ Cusumano's
10/12 LANSING MI @ Blackened Moon
10/14 PITTSBURGH PA @ Kopec's
10/15 PHILADELPHIA PA @ JR's Bar
10/17 BOSTON MA @ Wacky Castle
10/18 PAWTUCKET RI @ KC's
10/19 N ARLINGTON NJ @ Hartley's (Playing)
10/20 N ARLINGTON NJ @ Hartley's
10/23 CHESAPEAKE VA @ Roger's Sports Pub
10/24 RALEIGH NC @ TBA
10/27 BATON ROGUE LA @ Here Today Gone Tomorrow
10/28 HOUSTON TX @ Walter's
10/29 AUSTIN TX @ The Grand
10/30 SAN ANTONIO TX @ Korova
11/02 SAN DIEGO CA @ TBA
11/03 BAKERSFIELD CA @ Mint Bar More...
New Jersey's Hammer Fight is getting ready to take its bar-brawling thrash 'n' roll out west for its "Wrecked Coast Disas-Tour" with Sacramento's Psychosomatic. The band will be playing out in support of its self-titled debut EP, out now on Horror Pain Gore Death Productions. Fans should also expect to hear material from the band's forthcoming, as-of-yet-untitled sophomore effort, which is currently in pre-production. "Wrecked Coast Disas-Tour" dates, along with additional shows, are listed below.
HAMMER FIGHT Live:
7/14 Philadelphia, PA @ Sweeny's
8/04 Milton, DE @ Oswald Festival
8/10 Philadelphia, PA @ Club Risque
8/11 Philadelphia, PA @ O'Reilly's Pub
8/17 Los Angeles, CA @ TBA
8/18 San Diego, CA @ TBA
8/19 Las Vegas, NV @ TBA
8/20 Bakersfield, CA @ The Mint
8/21 Fresno, CA @ TBA
8/22 Salinas, CA @ TBA
8/23 Oakland, CA @ Eli's Mile Hile Club
8/24 Chico, CA @ Cafe Coda
8/25 Sacramento, CA @ TBA More...