Hammer Fight Streams New Song And Posts Tour Dates
New Jersey-based thrash n' roll heathens Hammer Fight have recently completed their full-length debut entitled "Chug of War." The album, which follows the band's 2011 self-titled EP, was recorded by Bobby Torres at The Machine Shop in Belleville, NJ. Chug of War features new guitarist Ryan Blackman, who stepped in to replace Rob Guidotti after his departure last fall. Artwork for Chug of War came from a collaboration between Hammer Fight bassist/vocalist Drew Murphy and Buz Hasson,
tattoo artist and co-creator of the comic book "The Living Corpse." Label and release date information for Chug of War will be announced in the coming months.
Hammer Fight has just posted its cover of Iron Maiden's "Be Quick or Be Dead" on its official StereoKiller page and will start posting new material from "Chug of War" on Monday, February 11th. Visit Stereokiller to check out the tunes. On April 4th, Hammer Fight will kick off their Spring 2013 Tour, which will take the band out of its native New Jersey and across the Midwest for a string of dates before hooking up with California skate thrash legends Psychosomatic. Dates are as follows, along with the cover art of "Chug of War" and the new track:
HAMMER FIGHT Only
4/04 - Seacaucus, NJ @ The Blue Room
4/05 - Albany NY @ Trick Shots
4/06 - Rochester NY @ Bugjar
4/07 - Akron OH @ Annabell's Lounge
4/08 - Chicago IL @ TBA
4/09 - Topeka, KS @ The Boobie Trap
4/10 - Joplin, MO @ Cesspool Castle
4/11 - Oklahoma City OK @ The Chameleon Room
HAMMER FIGHT w/PSYCHOSOMATIC
4/12 - San Antonio TX @ Bonds007
4/13 - Austin TX @ White Swan
4/14 - Dallas TX @ TBA
4/15 - Houston TX @ White Swan
4/16 - Baton Rogue LA @ TBA
4/17 - Atlanta GA @ TBA
4/18 - Raleigh NC @ Slim's
4/19 - Chesapeake VA @ Rodger's Sports Pub
4/20 - Richmond VA @ Strange Matter
4/21 - Frederick, MD @ Lallo's
4/22 - Baltimore MD @ The Sidebar Tavern
4/23 - Atlantic City NJ @ Bull Shots
4/24 - Providence RI @ Dusk
4/25 - Allston MA @ Obrien's Pub
4/26 - Philadelphia PA @ JR's Bar
4/27 - New York, NY @ TBA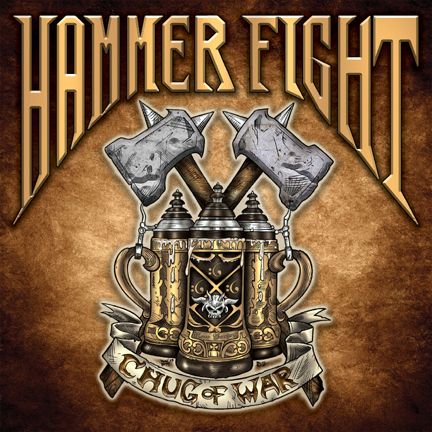 What's Next?
Please share this article if you found it interesting.
---
To minimize comment spam/abuse, you cannot post comments on articles over a month old. Please check the sidebar to the right or the related band pages for recent related news articles.