Rhapsody Of Fire Announces "Live - From Chaos To Eternity"
Band Photo: Rhapsody Of Fire (?)
Italian Symphonic metal kings Rhapsody of Fire will release "Live - From Chaos to Eternity" on May 3rd (USA May 7th). It will be available as 2-CD digipak and as limited 3-vinyl set. The material (a mixture of old classics and newer tracks) was recorded on the band's latest European tour in Spring 2012.
Alex Staropoli comments: "We wanted to deliver a live album that can actually be called a LIVE album. Not one single part was re-recorded in studio as most of bands do. Personally I am always looking for perfection but in the case of this live album I truly believe it had to sound live and maintain both live playing and feeling at 100%."
Vocalist Fabio Lione adds: "This live album it's the concrete proof that this band is strong and willing to keep playing and producing music for all our fans out there for the years to come."
CD 1
01. Dark Mystic Vision
02. Ad Infinitum
03. From Chaos To Eternity
04. Triumph Or Agony
05. I Belong To The Stars
06. The Dark Secret
07. Unholy Warcry
08. Lost In Cold Dreams
09. Land Of Immortals
10. Aeons Of Raging Darkness
11. Dark Reign Of Fire
12. Drum Solo
CD 2
01. The March Of The Swordmaster
02. Dawn Of Victory
03. Toccata On Bass
04. The Village Of Dwarves
05. The Magic Of The Wizard's Dream
06. Holy Thunderforce
07. Reign Of Terror
08. Knightrider Of Doom
09. Epicus Furor
10. Emerald Sword
11. Erian's Lost Secrets
12. The Splendour Of Angels' Glory (A Final Revelation)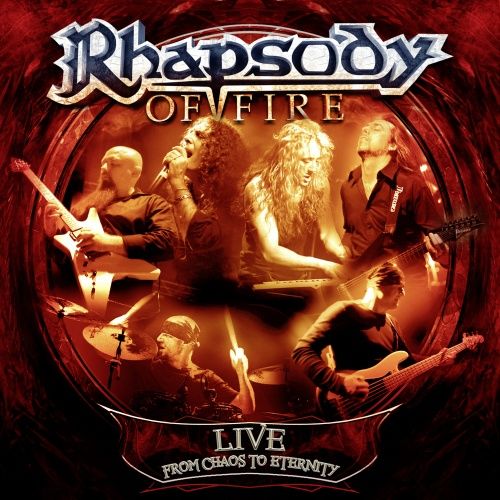 What's Next?
Please share this article if you found it interesting.
---
0 Comments on "Rhapsody Of Fire Announces Live Release"
Be the first to comment! Tell us what you think. (no login required)
To minimize comment spam/abuse, you cannot post comments on articles over a month old. Please check the sidebar to the right or the related band pages for recent related news articles.