Desert Sound Volume IV Streaming Both Discs Online
Band Photo: Three Eyes Left (?)
The fourth installment of the Desert Sound compilations is upon us and streaming online at this location. Desert Sound Vol. IV – In The Mouth Of Fuzz packs 25 cuts from the scene defined by chugging guitars, dirty fuzz, psychedelic visions, feedback and cowbell fills. It's a trip deep into the Italian heavy stoner psycho doom panorama, with tracks that are stoner to others that are on the psychedelic side, as well as the doom mantras and spacey compositions. Stream it all below, and check out the full alphabetical band listing with tracks and cover artwork after the jump.
ANUSEYE - Orb Weavers
BLACK CAPRICORN - Call Of The Goat
BLACK RAINBOWS - Mastermind
BONES & COMFORT - Orange Blossoms & Four Swans
CANNIBAL MOVIE - Fame
CARONTE - Ghost Owl
CHORIACHI - Birkat Habayit
DA CAPTAIN TRIPS - The Merkfolk Ride
ELEPHANTE - Toporagno
GODWATT REDEMPTION - Circles
HERBA MATE - Imargem
KAYLETH - The Survivor
KILL THE EASTER RABBIT - Silent Hour
MANTHRA DEI - Xolotl
MR. BIZARRO & THE HIGHWAY EXPERIENCE - Mastodont
MUFFX - Voices
PATER NEMBROT - The Weaner
SPACE PARANOIDS - Three Lonely Pines
T.H.U.M.B. - Superlover
THE DALLAZ - Losers
THE WHIRLINGS - Calcutta's Sewers
THE WISDOOM - The Wisdoom
THREE EYES LEFT - La Fee Verthe (The Green Fairy)
TURBOMATT - Kong Ché
ZIPPO - Man Of Theory [Feat. Ben Ward]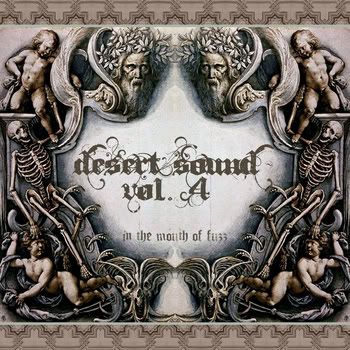 What's Next?
Please share this article if you found it interesting.
---
0 Comments on "Desert Sound Volume IV Streaming Online"
Be the first to comment! Tell us what you think. (no login required)
To minimize comment spam/abuse, you cannot post comments on articles over a month old. Please check the sidebar to the right or the related band pages for recent related news articles.