Arch Enemy Reveals New Album "Khaos Legions" Cover Artwork
Band Photo: Arch Enemy (?)
Sweden's Arch Enemy has teamed up with audio technologies manufacturer Altec Lansing to unveil the cover art for the band's forthcoming full-length record, titled "Khaos Legions." You can view the artwork below, which comes courtesy of artist Brent Elliott White (Megadeth, Death Angel). Arch Enemy's ninth studio album will hit stores in late spring/early summer on Century Media Records.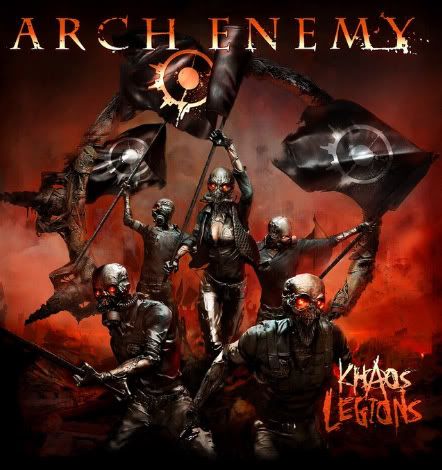 The band's upcoming tour dates are as follows:
14-May-2011 - Boulevard Festival @ C.O.C. Stadium, Morocco, Casablanca
27-May-2011 - Metalfest Open Air Switzerland, Pratteln
28-May-2011 - Metalfest Open Air Germany, Dessau
29-May-2011 - Metalfest Open Air Austria, Mining
31-May 2011 - Majestic Music Club, Bratislava, Slovakia
04-June-2011 - Metalfest Open Air Hungary
05-June-2011 - Metalfest Open Air Czech Republic
25-June-2011 - Graspop Metal Meeting Dessel, Belgium
10-July-2011 – Sonisphere (Apollo Stage), Knebworth, UK
12-July-2011 - Metal Camp, Tolmin, Slovenia
14-July-2011 - Lez' Art Scenique Festival, Selesat, France
22-July-2011 - Tuska, Suvilahti, Helsinki, Finland
30-July-2011 - MetaLmorphosiS 2011, Cyprus
18-August-2011 - Summer Breeze Open Air Dinkelsbühl, Germany
27-August-2011 - Summers End Open Air, Andernach, Germany
What's Next?
Please share this article if you found it interesting.
---
To minimize comment spam/abuse, you cannot post comments on articles over a month old. Please check the sidebar to the right or the related band pages for recent related news articles.