Denver Black Sky Announces Second Edition This August
Band Photo: Municipal Waste (?)
Following a successful debut last December, the bringers of Denver Black Sky are pleased to announce a second edition of live debauchery.
Crowned "Colorado's Best Metal Festival" by Denver Westword, this year's Denver Black Sky event will take place August 2nd and 3rd again at the Gothic Theatre and Moe's BBQ and feature another vicious lineup that includes appearances by:
Day 1 - August 2nd, 2014
Municipal Waste
Nails
Cephalic Carnage
Noisem
Dead Temple
Transient
In The Company Of Serpents
Vale of Pnath
Cattleist
Doperunner
Khemmis
Gomorrah
908
Ghosts of Glaciers
The Xiphoid Process
Wayfarer
Day 2 - August 3rd, 2014
Brutal Truth
Cannabis Corpse
Phobia
ACxDC
Xibalba
Resurrection
Early Graves
The Drip
Theories
Skinned
Annul
Zombie Hate Brigade
Scalafrea
North
Condemned Remains
Comments founder/Skinless vocalist Sherwood Webber of the upcoming live infiltration: "Round II ding ding ding! Denver Black Sky is bigger, badder and madder! We're not done with the surprises yet on this one! The bands speak for themselves, some of the most aggressive music on the planet! Welcome to the dead of summer, PARTY!"
Tickets go on sale this Saturday, April 26th, 2014 at $50 for two-day passes and $75 for VIP passes. Get yours at this location.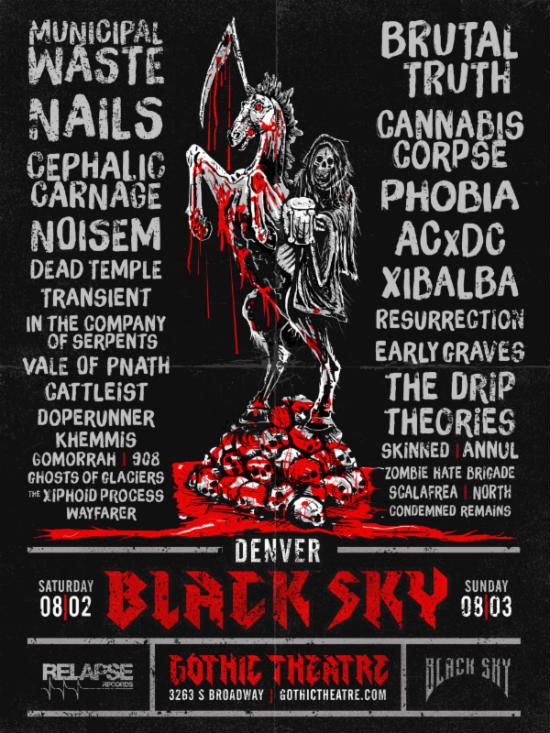 What's Next?
Please share this article if you found it interesting.
---
0 Comments on "Denver Black Sky Announces Second Edition"
Be the first to comment! Tell us what you think. (no login required)
To minimize comment spam/abuse, you cannot post comments on articles over a month old. Please check the sidebar to the right or the related band pages for recent related news articles.