Helvete Underground Festival Announces 2014 Band Lineup
The organizers of the Helvete Underground Festival have checked in with the following announcement about the lineup:
"Renowned worldwide for the past 30 years, the Swiss black metal scene owes its fame primarily to bands like Hellhammer, Celtic Frost, and Samael. In parallel to the major formations mentioned above, the Swiss black metal scene did not know any peace between the formation of Hellhammer in 1982 and today. Quite the contrary.
"More than 30 years after its first black metal band was born, a handful of activists from Geneva's underground culture are gathering to organize a major cultural event which focus is to rehabilitate and pay tribute to black metal, this hidden part of Switzerland's musical heritage.
"Therefore, it's with infinite honor and pleasure that we announce you the full line-up for this very unique three-days celebration.
"With the likes of Darkspace, Borgne, Bölzer, Rorcal, and many more, we intend to pay tribute to the greatest facet of the Swiss underground black metal scene.
"Extreme music fanatics worldwide: welcome to the Helvete Underground Festival. Please reserve the dates - October 2-3-4 - and organize your trip to Geneva, Switzerland, for this is going to be one of the greatest extreme music festivals of the year."
Full details and ticket information can be found at the festival's website here.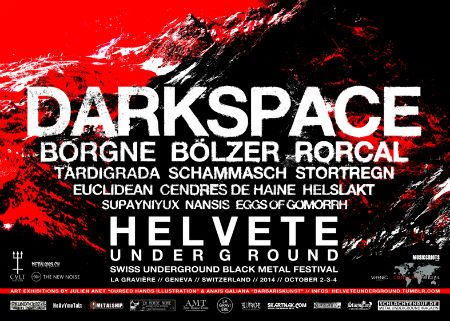 What's Next?
Please share this article if you found it interesting.
---
0 Comments on "Helvete Underground Festival Announces Band Lineup"
Be the first to comment! Tell us what you think. (no login required)
To minimize comment spam/abuse, you cannot post comments on articles over a month old. Please check the sidebar to the right or the related band pages for recent related news articles.