Track Listing For New Album "Heroes" Announced By Sabaton
Sweden's Sabaton announced the track listing for the upcoming new album "Heroes," the first studio album to be released since the famous schism in the band just before the release of "Carolus Rex" (see review here) in 2012. "Heroes" drops on May 16th via Nuclear Blast Records, with pre-orders to commence within a couple of days.
The track list for the album is:
1 Night Witches
2 No Bullets Fly
3 Smoking Snakes
4 Inmate 4859
5 To Hell And Back
6 The Ballad of Bull
7 Resist And Bite
8 Soldier of 3 Armies
9 Far From The Fame
10 Hearts of Iron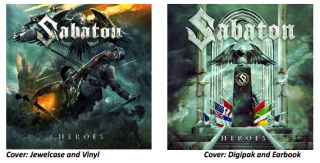 What's Next?
Please share this article if you found it interesting.
---
0 Comments on "Sabaton Announced 'Heroes' Track Listing"
Be the first to comment! Tell us what you think. (no login required)
To minimize comment spam/abuse, you cannot post comments on articles over a month old. Please check the sidebar to the right or the related band pages for recent related news articles.