Hierophant
From: Italy
Last Known Status: Active
Latest Hierophant News
Below is our complete Hierophant news coverage, including columns and articles pertaining to the band. Some articles listed may be indirectly related, such as side projects of the band members, etc.
Xibalba will be touring Europe this coming September and October with Hierophant. Dates for the trek can be found at the Xibalba Facebook profile here or in the tour poster available below.
After a successful American tour, New York metal trio Tombs has announced an upcoming tour in April with Italian punk/metal band Hierophant. The dates are posted below, and you may stream the latest one from Tombs - "Path of Totality" at this location.
Apr. 13 Saarbrücken, Germany Garage
Apr. 14 Tilburg, Holland Roadburn (Tombs only)
Apr. 15 Bremen, Germany Tower
Apr. 16 Karlsruhe, Germany Jubez w/ Pelican
Apr. 17 Schweinfurt, Germany Alter Stattbahnhof
Apr. 18 Prague, Czech Rep Chapeu Rouge
Apr. 19 München, Germany Feierwerk w/ Pelican, Junius, Wolves Like Us
Apr. 20 Berlin, Germany Cassiopeia w/ Pelican
Apr. 21 Brussels, Belgium VK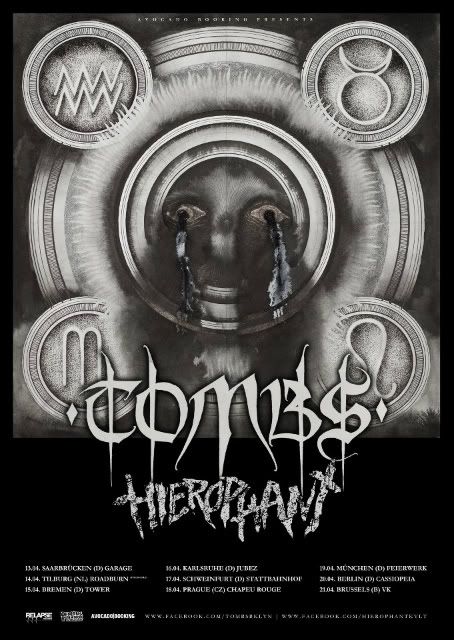 The Eyes Of A Traitor has announced an upcoming co-headlining tour with Awaken Demons, and additional support from Hierophant. The currently announced dates are as follows:
11/8 Reading Facebar
11/9 Norwich Marquee
11/10 Colchester Twist
11/11 Bournemouth Ibar
11/12 Milton Keynes Craufurd
11/13 Leeds Well
11/14 Middlesborough Westgarth Club
11/15 Grimsby Matrix
11/16 Wrexham Central Station
11/17 Bristol Croft
11/18 Leicester Sumo
11/19 Birmingham Eddies (no The Eyes of a Traitor)
11/20 Northampton Soundhouse (no The Eyes of a Traitor)
11/21 London Barfly