Coven
From: Detroit, MI
Last Known Status: Active
Latest Coven News
Below is our complete Coven news coverage, including columns and articles pertaining to the band. Some articles listed may be indirectly related, such as side projects of the band members, etc.
Legendary U.S. doom act Coven (also known as Coven 13) has been confirmed to appear at Germany's Hammer Of Doom Festival on November 10th at Posthalle in Würzburg. The festival begins on November 9th for Epic Night at which Ross The Boss will headline. Coven will join Pentagram, The Skull, Solstice and others in performing the next day, appropriately called 'Doomsday.' Shadow Kingdom Records reissued Coven's legendary 1987 album "Worship New Gods" on July 31st of this year. Visit the Facebook Hammer Of Doom Festival page for more information on the event and an updated list of bands that have confirmed.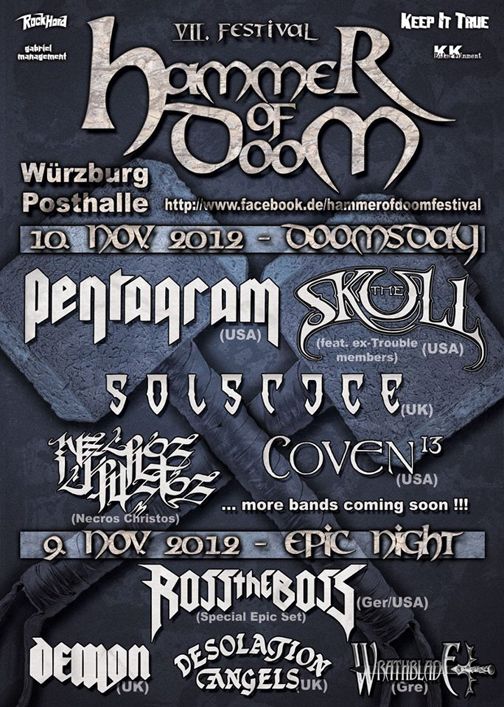 Shadow Kingdom Records has announced the July 31st reissue of Coven's legendary 1987 album "Worship New Gods." Coven, from Detroit, MI, is not the Jinx Dawson Coven that is somewhat known in underground metal world. This Coven, who was actually approached by Jinx to change their name to Coven 13, is a unique 80's heavy metal band that unleashes a blend of early blackened doom. This is one of the rarest US metal albums to ever exist because it was self released back in 1987 on vinyl only. This is the first official release of it on CD, with a lot of amazing band photos. Check out the tracklisting and cover art below.
1. Riddle Of Steel
2. Wicked Day
3. Ruler
4. Kiss Me With Blood
5. Burial Ground
6. General's Eye
7. Jail House
8. Threshold Of The New
9. Loki More...