Coffins' "Collosal Hole" EP Seeing Deluxe Vinyl Release
Horror Pain Gore Death Productions is set to release the deluxe edition of the Coffins "Colossal Hole" EP on 10-inch vinyl format on August 20th. This deluxe edition is limited to 500 hand-numbered copies on black night vinyl and comes with a set of two barf bags and a pair of numbered event style tickets.
This release features raw pre-production demo tracks from their Relapse Records debut "The Fleshland," and was previously only available as a limited cassette direct from the band. This exclusive edition features cover artwork by Uchino, complimented by a pair of numbered collectable event style tickets.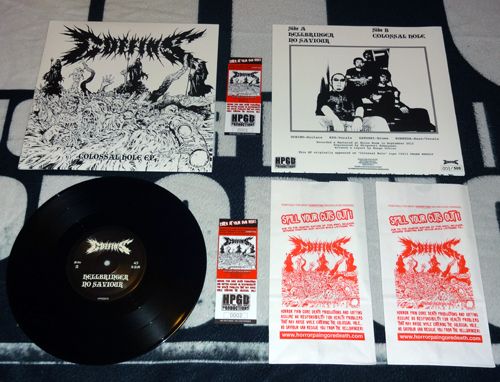 What's Next?
Please share this article if you found it interesting.
---
0 Comments on "Coffins' 'Collosal Hole' EP Seeing Vinyl Release"
Be the first to comment! Tell us what you think. (no login required)
To minimize comment spam/abuse, you cannot post comments on articles over a month old. Please check the sidebar to the right or the related band pages for recent related news articles.