Shai Hulud Kicking Off Tour With Beyond The Shore Tonight
Shai Hulud, recently returned from performances in Australia as part of the Soundwave Festival, will get back in the van and head out on tour in North America with Thy Will Be Done today.
The tour begins in York, PA and also includes support from up-and-coming acts Altars and Beyond the Shore. After this tour wraps up on April 7th, Shai Hulud will board flights for Europe and tour with Propagandhi. Shai Hulud's entire confirmed list of dates can be found below.
Guitarist and found member Matt Fox reflects on the band's year thus far: "2013, what a year… Thus far, we've shared new music with our friends and supporters who encourage us and keep us alive. We were fortunate enough to have just returned from the Soundwave festival in Australia where we made new friends, and saw the bands whose albums are the primary reasons we play the music we do (Thank you Master Of Puppets, Reign In Blood, Among The Living, and Blood, Sweat, And No Tears).
"We soon leave for Europe with Propagandhi, another one of our favorite bands, and what's more… in just two days we share the stage with some of the best friends we have ever made in our years of touring, Thy Will Be Done. Joining us on this jaunt are our soon to be friends, Altars, and Beyond The Shore. This is a lot of love and appreciation for a band of self-proclaimed pure misanthropists constantly talking about their 'Profound Hatred Of Man.' Who knew…
"We're happy to contradict ourselves in this fashion. Come share the love."
w/ Thy Will Be Done, Altars, Beyond the Shore
03/23 York, PA New Grounds
03/24 Fredericksburg, VA GMT Studio
03/25 Fayetteville, NC Drunken Horse Pub
03/26 Charleston SC Skatepark Of Charleston
03/27 Douglasville, GA The 7 Venue
03/28 Orlando, FL The Bombshell Tavern
03/29 Pembroke Pines, FL The Talent Farm
03/30 Ocala FL Ghostrider Saloon
03/31 Tallahassee, FL Handlebar
04/01 Decatur, AL Excalibur Vintage & Vinyl
04/02 Nashville TN The Owl Farm
04/03 Springfield, MO Outland Ballroom
04/04 Evansville, IN The Hatch
04/05 Toledo, OH Frankies
04/06 Rochester, NY Flying Squirrel
04/07 Long Island, NY Today's Mixtape Festival
w/ Propagandhi, War on Women
04/12 Berlin, DE SO36
04/13 Hamburg, DE Grunspan
04/14 Amsterdam, NL Melkweg
04/15 Nottingham, UK Rock City w/ Comeback Kid
04/17 London, UK The Electric Ballroom w/ Comeback Kid
04/18 Glasgow, UK Garage w/ Comeback Kid
04/19 Sheffield, UK Corporation w/ Comeback Kid
04/20 Hasselt, BE Muziekodroom
04/21 Koln, DE Essigfabrik
04/23 Munchen, DE Backstage
04/24 Zurich, CH Komplex
04/25 Wien, AT Arena
04/26 Milano, IT Officina Creative Ansaldo
04/27 Stuttgart, DE LKA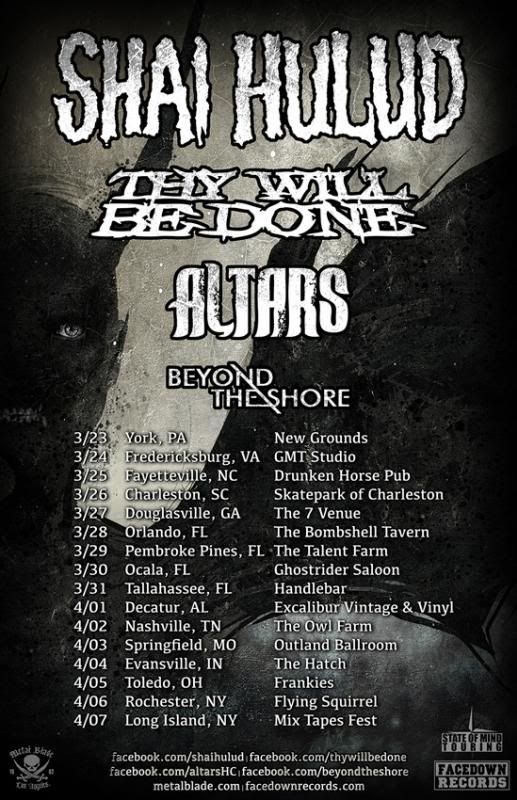 What's Next?
Please share this article if you found it interesting.
---
0 Comments on "Shai Hulud Kicking Off Tour Tonight"
Be the first to comment! Tell us what you think. (no login required)
To minimize comment spam/abuse, you cannot post comments on articles over a month old. Please check the sidebar to the right or the related band pages for recent related news articles.