Ragnarokkr Metal Apocalypse 2013 Lineup Announced
The Ragnarokkr Metal Apocalypse 2013 will take place in Chicago this coming May 3rd and 4th. The full lineup has now been revealed and is available below. The organizers of the festival also commented:
"Ragnarokkr Metal Apocalypse is the premier true metal festival in North America - keeping underground metal alive in the states. They've quickly gained an infamous reputation across the world by featuring many legendary bands all at one event.
"Some Ragnarokkr veterans include the reunion of Brocas Helm, the German power metal masters Wizard for their only USA show, Helstar for the first time in the Midwest in over 2 decades, Voltax for their first USA appearance, Obsession featuring Michael Vescera, and the epic Virgin Steele. 2013 will be the best year yet! For more details, visit this location."
Rock Club Stage
Omen
Oz (Sweden, first USA show)
Tyrant's Reign (back after 7 yrs)
Sleepy Hollow
Ashbury (first metal show)
Eldritch (Italy)
Viking
Shok Paris
Split Heaven (Mexico, first USA show)
Paradoxx
October 31
Blood Feast
Vindicator
Seax
Wrath
Earthen
Music Joint Stage
Winterhawk
Demon Bitch
Innerseige
Lords of the Trident
Ashes of Avarice
Central Disorder
Olorin
Vanlade
Gatekrashor (Canada)
Borrowed Time
Dark Mirror
Ancient Dreams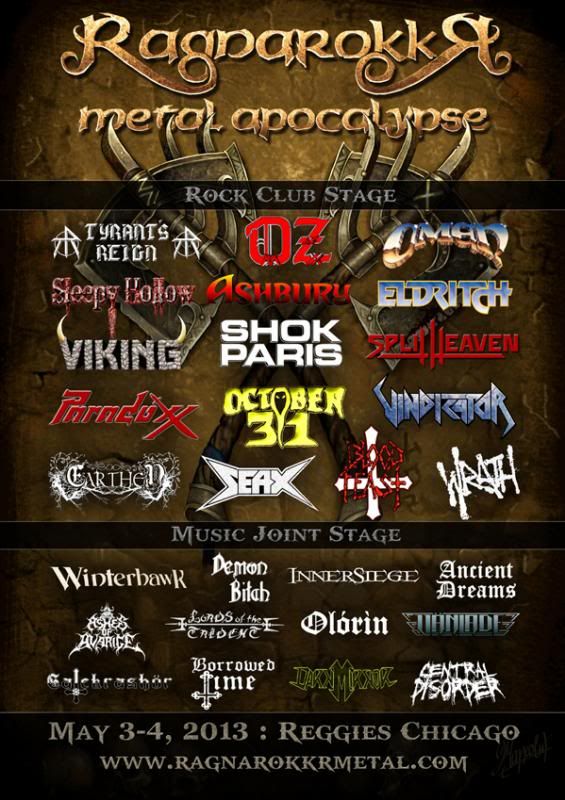 What's Next?
Please share this article if you found it interesting.
---
0 Comments on "Ragnarokkr Metal Apocalypse Lineup Announced"
Be the first to comment! Tell us what you think. (no login required)
To minimize comment spam/abuse, you cannot post comments on articles over a month old. Please check the sidebar to the right or the related band pages for recent related news articles.