Sanctus Bellum Performing Show With Pentagram And Helstar Members
Band Photo: Pentagram (?)
Houston, Texas doom band Sanctus Bellum, who recently released its album "The Shining Path," has announced a December 22nd gig it will be playing with members of Helstar and Pentagram. The event, The El Birthday Metal Fest II, will take place at Rudyard's British Pub in Houston on December 22nd.
The two sets the band will perform will be the Sanctus set with James Rivera performing underground metal classics, and the Sanctuary set with Bobby Liebling, playing 70's Pentagram songs. Sanctus Bellum will also be performing at Skatestock on October 20th and at Warehouse Live on December 1st opening for Helstar.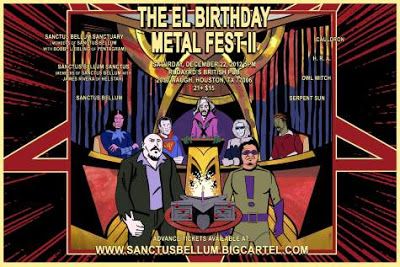 What's Next?
Please share this article if you found it interesting.
---
0 Comments on "Sanctus Bellum Performing Special Show"
Be the first to comment! Tell us what you think. (no login required)
To minimize comment spam/abuse, you cannot post comments on articles over a month old. Please check the sidebar to the right or the related band pages for recent related news articles.