Hammer Fight Posts Dates For OktoberWrecked Tour
New Jersey thrash 'n' rollers Hammer Fight are gearing up for next month's OktoberWrecked Tour. This nine date trek will see the band traverse the Midwest and on the East Coast. Hammer Fight's newest tune, "A Corpse is a Corpse (of Course, of Course)," which the band recorded in January of this year for the film "The Amazing Adventures of the Living Corpse," is now streaming exclusively at this location.
OktoberWrecked Tour 2012 dates:
10/19 - Lansing, MI - Blackened Moon Concert Hall
10/20 - Crestwood, IL - Badabrew
10/21 - TBA
10/22 - Albany, NY - Bogie's
10/23 - Lowell, MA - The Worthen House
10/24 - Trenton, NJ - Championship Bar
10/25 - New York, NY - Lit Lounge
10/26 - Philadelphia, PA - JR's Bar
10/27 - Frederick, MD - Lallo's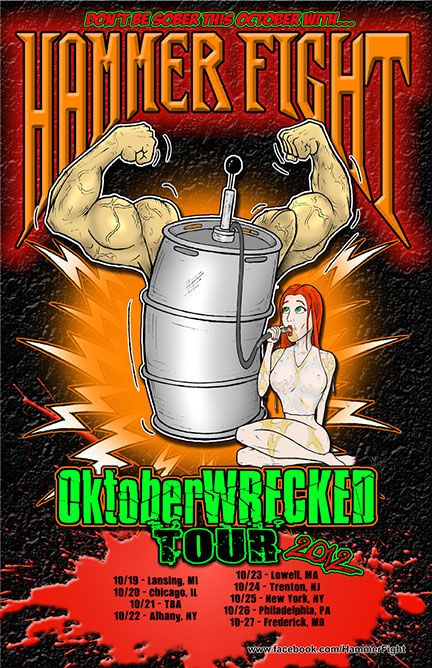 What's Next?
Please share this article if you found it interesting.
---
To minimize comment spam/abuse, you cannot post comments on articles over a month old. Please check the sidebar to the right or the related band pages for recent related news articles.