The Melvins Playing Every State Plus Washington D.C.
As "Freak Puke" gets set to drop today, the Melvins will attempt to become the Guinness World Record holders for the first band to tour the full United States and D.C. in 51 days with a tour kicking off Sept. 5 in Anchorage, Alaska and wrapping up Oct. 25 in Honolulu, Hawaii.
"We figured it was time for us to do something REALLY crazy," said Osborne. "51 shows in 50 states plus 1 on D.C. and all in 51 days? Jeez! I wonder if we can do it?"
The tour, which will feature the Melvins Lite line-up of Buzz Osborne, Dale Crover and Trevor Dunn, also marks the first time in the band's near 30-year history that they will perform in Alaska, New Hampshire, Delaware and Hawaii.
The Melvins 51-date United States tour dates:
September 5 Anchorage, AK Bear Tooth Theatre and Pub
September 6 Seattle, WA Showbox at The Market
September 7 Oregon TBA
September 8 Boise, ID Neurolux Lounge
September 9 Missoula, MT Top Hat Lounge
September 10 Salt Lake City, UT Club Sound
September 11 Casper, WY TBA
September 12 Denver, CO Bluebird Theatre
September 13 Lawrence, KS The Bottleneck
September 14 Columbia, MO The Blue Note
September 15 Omaha, NE The Waiting Room
September 16 Des Moines, IA House of Bricks
September 17 Sioux Falls, SD The Vault
September 18 Fargo, ND The Aquarium
September 19 Minneapolis, MN Grumpy's
September 20 Madison, WI High Noon Saloon
September 21 Chicago, IL Double Door
September 22 Indianapolis, IN The Vogue Theatre
September 23 Louisville, KY The Vernon Club
September 24 Detroit, MI Smalls
September 25 Cleveland, OH Grog Shop
September 26 Morgantown, WV 123 Pleasant Street
September 27 Jermyn, PA Eleanor Rigby's
September 28 South Burlington, VT Higher Ground
September 29 Dover, NH Dover Brickhouse
September 30 Portland, ME Asylum
October 1 Boston, MA Paradise Rock Club
October 2 Pawtucket, RI The Met Cafe
October 3 New Haven, CT Toad's Place
October 4 Brooklyn, NY Music Hall of Williamsburg
October 5 Hoboken, NJ Maxwell's
October 6 Wilmington, DE Mojo 13
October 7 Baltimore, MD Ottobar
October 8 Washington, DC Black Cat
October 9 Charlottesville, VA Jefferson Theatre
October 10 Carrboro, NC Cat's Cradle
October 11 Knoxville, TN The Square Room
October 12 Greenville, SC The Handle Bar
October 13 Athens, GA 40 Watt Club
October 14 Birmingham, AL Bottle Tree
October 15 Pensacola, FL Vinyl Music Hall
October 16 Jackson, MS Duling Hall
October 17 Little Rock, AR Juanita's Cantina
October 18 Baton Rouge, LA Spanish Moon
October 19 Austin, TX Mohawk
October 20 Norman, OK Opolis Production
October 21 Albuquerque, NM Launchpad
October 22 Phoenix, AZ Crescent Ballroom
October 23 Las Vegas, NV Artifice
October 24 Los Angeles, CA Hollywood Forever Cemetery
October 25 Honolulu, HI The Republik
Melvins Lite Canada + tour dates (Retox opens all dates except July 4 and 20):
July 1 Rochester, NY Water Street Music Hall
July 3 Montreal, QC Corona Theatre
July 4 Ottawa, ON Cisco Ottawa Bluesfest
July 5 Toronto, ON Opera House
July 6 London, ON Call The Office
July 7 Hamilton, ON Club Absinthe
July 9 Winnipeg, MB West End Cultural Center
July 10 Regina, SK The Exchange
July 11 Saskatoon, SK Louis' Pub
July 12 Calgary, AB Republik
July 13 Edmonton, AB Starlite Room
July 15 Vancouver, BC Venue
July 17 Bellingham, WA Wild Buffalo House of Music
July 18 Portland, OR Hawthorne Theatre
July 20 San Francisco, CA Slim's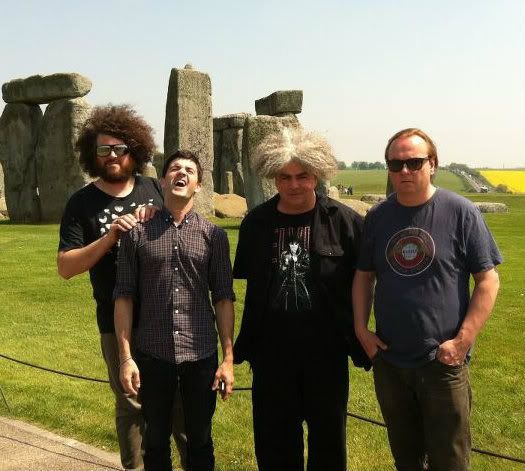 Source: The Obelisk
What's Next?
Please share this article if you found it interesting.
---
To minimize comment spam/abuse, you cannot post comments on articles over a month old. Please check the sidebar to the right or the related band pages for recent related news articles.