Second Annual Brutality Reigns Fest Coming In June
Sevared Records has announced the second edition of its annual festival, the Brutality Reigns Fest 2, will be taking place on June 22nd and 23rd at Hot Shots in Rochester, New York. Below is a preliminary line-up of the bands that are going to play, with more to be added in the coming weeks. Check for updates on the Brutality Reigns Fest 2 Facebook event page. Also check out an upload of Intestinal Alien Reflux, one of the bands on the roster, with the track "Illegal Aliens."
Embalmer
Putrid Pile
Abdicate
Intestinal Alien Reflux
Defleshuary
Avulsion
Forced Asphyxiation
Death Sick
The Unborn Dead
Sapremia
Neurolepsy
Seplophile
Goemagot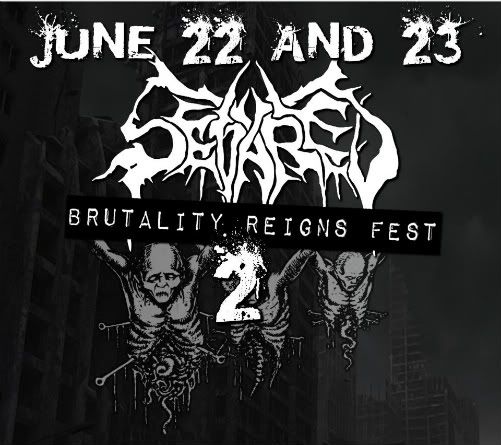 What's Next?
Please share this article if you found it interesting.
---
0 Comments on "Sevared Records Announces Brutality Reigns Fest 2"
Be the first to comment! Tell us what you think. (no login required)
To minimize comment spam/abuse, you cannot post comments on articles over a month old. Please check the sidebar to the right or the related band pages for recent related news articles.