Hallowed Butchery Reveals Cover Art For Split With The Austrasian Goat
Hallowed Butchery has posted the cover artwork online for the band's upcoming split with The Austrasian Goat, which can be viewed below. Hallowed Butchery also commented on the split and an upcoming full-length album:
"A Choir of Dead Children Sing Their Hymn for a Sleeping God: This is the tentative title for the forthcoming full-length album. The concept has changed. The entire album will deal with child abuse, neglect, and murder. All proceeds will be donated to a charity for abused children. More details and a confirmed charity organization will available soon. A release date can be expected late 2011/early 2012.
"The split 10" with the Austrasian Goat should be available soon. There were some delays with mastering, and the girl who was supposed to do the artwork has disappeared. I will be taking over artwork duties. Screenprinted, metallic paper is in the works!!!
"Also in the works are a series of limited live performances. With a backing band, I will perform 'Funeral Rites for the Living' in its entirety. More details coming soon."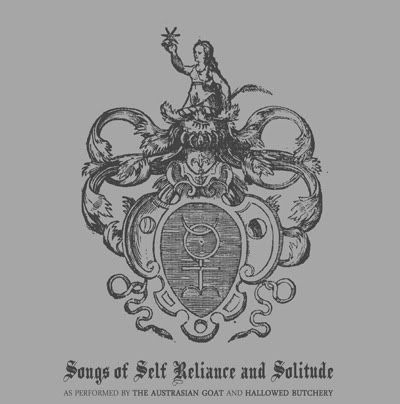 What's Next?
Please share this article if you found it interesting.
---
0 Comments on "Hallowed Butchery Reveals Split Album Cover Art"
Be the first to comment! Tell us what you think. (no login required)
To minimize comment spam/abuse, you cannot post comments on articles over a month old. Please check the sidebar to the right or the related band pages for recent related news articles.