NightShade Announces "Lost In Motion" Album Release Date
NightShade will release the band's new album "Lost In Motion" in the U.S. on April 26th, 2011, and in Europe on May 13th, 2011. The release will be followed by a lengthy U.S. tour. "Lost in Motion" was produced by Fredrik Nordstrom and Henrik Udd, and fans can listen to a two minute teaser of the new album at the NightShade Facebook page. The cover artwork can be viewed below.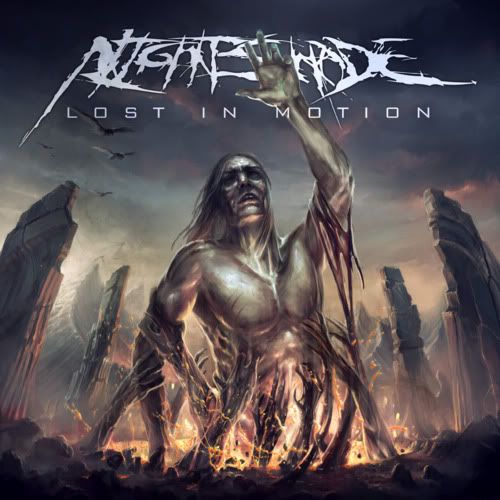 The track listing for "Lost In Motion" is as follows:
1. Unleash The Rage
2. Rebellion
3. Winner (or Not)
4. Lose Your Friends
5. The Depths Of Memory
6. A Dream. A Choice. A War.
7. FInal Crop
8. If You Don't Have A Pawn In Your Game, You're Guaranteed To Fail
9. You Can't See Through My Eyes
10. FoxHound
NightShade's upcoming tour dates are as follows:
Apr 20 - Peabodys Down Under (Cleveland, OH)
Apr 21 - Broadway Joe's (Buffalo, NY)
Apr 22 - Downtown Quarterback (Endicott, NY)
Apr 23 - Bogie's (Albany, NY)
Apr 24 - Webster Underground Hartford, CT)
Apr 27 - Championship Bar (Trenton, NJ)
Apr 28 - The Silo (Reading, PA)
Apr 29 - Smiling Moose (Pittsburgh, PA)
Apr 30 - Parkstreet Patio (Columbus, OH)
May 01 - Mad Hatter (Covington, KY)
May 03 - The District Skatepark (Evansville, IN)
May 04 - The Muse (Nashville, TN)
May 05 - Emerson Theater (Indianapolis, IN)
May 06 - McGuffys House Of Rock (Dayton, OH)
May 11 - The Pit (Jacksonville, FL)
May 12 - 321 Local (Cocoa, FL)
May 13 - The Chamber (Daytona Beach, FL)
May 14 - The Talent Farm (Pembroke Pines, FL)
May 15 - Woodlawn Community (Panama City, FL)
May 17 - The Grunge Bar (Pensacola, FL)
May 20 - Reverb (Tulsa, OK)
May 22 - The Brass Rail (Peoria, IL)
May 24 - Another Hole In The Wall (Steger, IL)
May 25 - Miramar Theatre (Milwaukee, WI)
May 27 - Slowdown (Omaha, NE)
May 28 - Bottleneck (Lawrence, KS)
May 31 - The Mosh Hall (Henryetta, OK)
June 01 - Eisenberg's Skatepark (Plano, TX)
June 02 - Greens Theater (Houston, TX)
June 05 - White Rabbit (San Antonio, TX)
June 09 - Bricktown Live (Oklahoma City, OK)
June 18 - The Fire Escape (Sacramento, CA)
June 28 - Radio Rendezvous (Twin Falls, ID)
What's Next?
Please share this article if you found it interesting.
---
0 Comments on "NightShade Announces New Album Release Date"
Be the first to comment! Tell us what you think. (no login required)
To minimize comment spam/abuse, you cannot post comments on articles over a month old. Please check the sidebar to the right or the related band pages for recent related news articles.