Autopsy Finishes Work On New Album "Tourniquets, Hacksaws And Graves"
Band Photo: Autopsy (?)
U.S. death metal act Autopsy has completed work on its seventh studio album, "Tourniquets, Hacksaws and Graves," set to be unleashed in North America on April 29th via Peaceville Records. The band comments:
"TOURNIQUETS TIGHTEN....HACKSAWS RIP.....GRAVES ARE FILLED.....THIS IS AUTOPSY, THIS IS DEATH METAL.... With the stench of 'The Headless Ritual' still permeating the befouled air, Autopsy has once again come for your very metal soul with their newest blood soaked homage to all things dark, twisted and horrific....once again bone crushingly heavy nightmares await....'Tourniquets, Hacksaws and Graves' will awaken the most depraved part of the coldest zombie's stare.....blood will flow, brains will be destroyed, coffin lids will be opened..."
The album was recorded at Fantasy Studios with producer Adam Munoz and sees a continuation of Autopsy's pursuit of the ultimate in metallic horror and extremity, featuring the longstanding combo of Eric Cutler and Danny Coralles on guitars, Joe Trevisano on bass and Chris Reifert on drums/vocals.
Artwork comes courtesy of Wes Benscoter, who was also previously responsible for the "Macabre Eternal" album cover. Check it out below, and you can also hear the band's entire previous release "The Headless Ritual" at this location.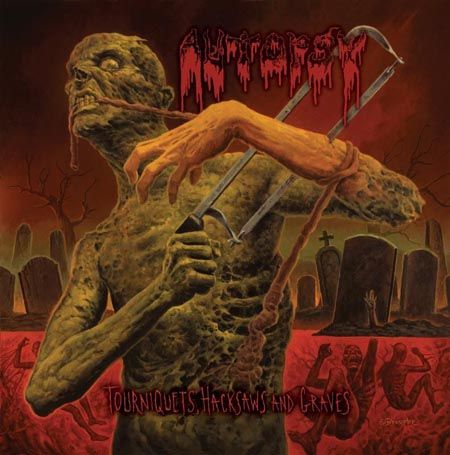 What's Next?
Please share this article if you found it interesting.
---
To minimize comment spam/abuse, you cannot post comments on articles over a month old. Please check the sidebar to the right or the related band pages for recent related news articles.