Unconsecrated
From: Spain
Last Known Status: Active
Latest Unconsecrated News
Below is our complete Unconsecrated news coverage, including columns and articles pertaining to the band. Some articles listed may be indirectly related, such as side projects of the band members, etc.
Chaos Records and Dark Blasphemies will co-release Unconsecrated's "Awakening in the Cemetery Grave" in June with a vinyl LP version to follow later in the year. Featuring all the material the Spanish old school death metallers have recorded to date, the compilation includes the "Unconsecrated Cemetery" (2006) and "Dark Awakening" (2007) demos, as well as 2010's "Slave to the Grave" EP, which was previously released as a 7" on Dark Descent Records.
The material has been remastered by Skaldir at the Kalthallen Studios in Germany (2011) and cover art comes courtesy of Daniel Devilish (Entrails, Malfeitor, Blood Mortized). Below is the tracklisting and cover art of the entire release, plus a video upload of the title track from "Slave to the Grave" after the jump.

SLAVE TO THE GRAVE EP (2010)
1. Intro
2. Buried in the Crypt
3. Exhumating Profaned Flesh
4. Slave to the Grave
5. Breath of Desolation (instrumental)
DARK AWAKENING (DEMO 2007)
6. Path of the Ancient Gods
7. Dark Awakening
8. Over the Throne
9. Temple of Darkness
10. Descending Into the Abyss
11. Tombs of Fallen Angels
UNCONSECRATED CEMETERY (DEMO 2006)
12. Recremated by the Sunlight
13. Journey Into the Crypts of the Dead
14. Morbid Dawn of the Deceased
15. Unconsecrated Cemetery
16. Recently Deceased
17. The Curse of Evocation
18. Dead Forever (Unleashed Cover)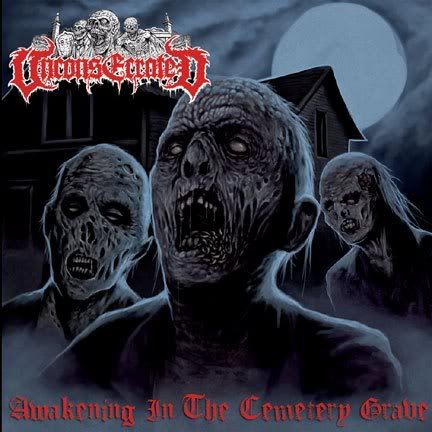 More...
"Spain Kills" is a massive 10-CD collection of metal music from Spain currently in the works. The creators have been collecting and coordinating song with bands for nearly six months up until the September 1 deadline, at which point audio editing and design was started.The 10CD set of "Spain Kills" is expected to be complete in October at which point it will sent for manufacturing and ready for sale on November 1, 2008
Each volume will be limited to 1,000 copies, of which half will be divided between the bands. Each CD will be sold separately, at an affordable price of 6 euros. Xtreem Music will be packaging a limited edition of some 200 boxes of whom will have two modes:
1. "Friki-box": 10 CDs in a special box (49.95 €)
2. "Super-freak-Box": 10 CDs in a special box Jersey Pegata Chapa (55.95 €)
Here is the complete 10-CD set tracklisting for "Spain Kills": More...