Unconsecrated Re-Releasing Demos And EP On One Release
Chaos Records and Dark Blasphemies will co-release Unconsecrated's "Awakening in the Cemetery Grave" in June with a vinyl LP version to follow later in the year. Featuring all the material the Spanish old school death metallers have recorded to date, the compilation includes the "Unconsecrated Cemetery" (2006) and "Dark Awakening" (2007) demos, as well as 2010's "Slave to the Grave" EP, which was previously released as a 7" on Dark Descent Records.
The material has been remastered by Skaldir at the Kalthallen Studios in Germany (2011) and cover art comes courtesy of Daniel Devilish (Entrails, Malfeitor, Blood Mortized). Below is the tracklisting and cover art of the entire release, plus a video upload of the title track from "Slave to the Grave" after the jump.

SLAVE TO THE GRAVE EP (2010)
1. Intro
2. Buried in the Crypt
3. Exhumating Profaned Flesh
4. Slave to the Grave
5. Breath of Desolation (instrumental)
DARK AWAKENING (DEMO 2007)
6. Path of the Ancient Gods
7. Dark Awakening
8. Over the Throne
9. Temple of Darkness
10. Descending Into the Abyss
11. Tombs of Fallen Angels
UNCONSECRATED CEMETERY (DEMO 2006)
12. Recremated by the Sunlight
13. Journey Into the Crypts of the Dead
14. Morbid Dawn of the Deceased
15. Unconsecrated Cemetery
16. Recently Deceased
17. The Curse of Evocation
18. Dead Forever (Unleashed Cover)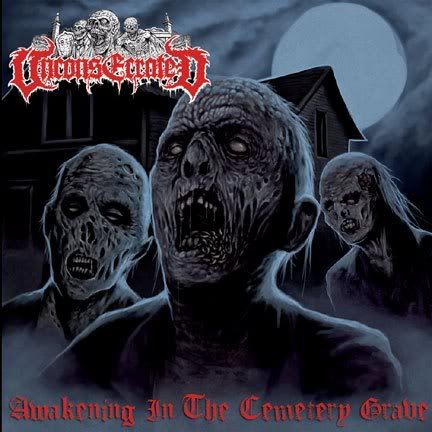 What's Next?
Please share this article if you found it interesting.
---
0 Comments on "Unconsecrated Re-Releasing Demos And EP"
Be the first to comment! Tell us what you think. (no login required)
To minimize comment spam/abuse, you cannot post comments on articles over a month old. Please check the sidebar to the right or the related band pages for recent related news articles.