Solstice
From: United Kingdom
Last Known Status: Active
Latest Solstice News
Below is our complete Solstice news coverage, including columns and articles pertaining to the band. Some articles listed may be indirectly related, such as side projects of the band members, etc.
Legendary U.S. doom act Coven (also known as Coven 13) has been confirmed to appear at Germany's Hammer Of Doom Festival on November 10th at Posthalle in Würzburg. The festival begins on November 9th for Epic Night at which Ross The Boss will headline. Coven will join Pentagram, The Skull, Solstice and others in performing the next day, appropriately called 'Doomsday.' Shadow Kingdom Records reissued Coven's legendary 1987 album "Worship New Gods" on July 31st of this year. Visit the Facebook Hammer Of Doom Festival page for more information on the event and an updated list of bands that have confirmed.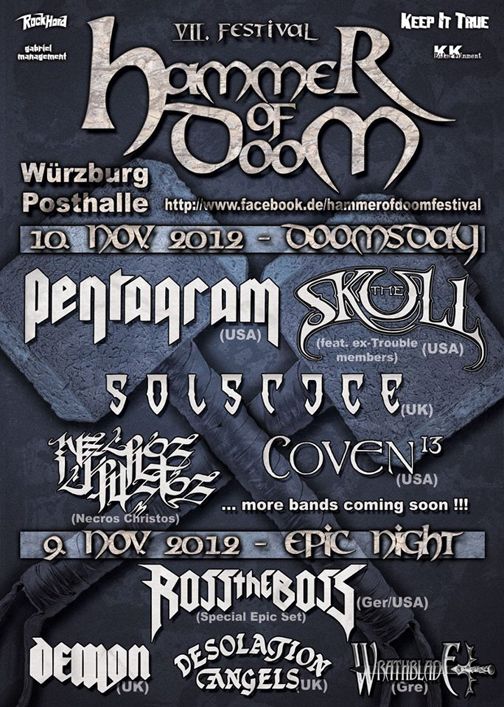 U.K. based metal act Solstice has issued the following announcement about parting ways with the band's vocalist:
"After our first couple of shows Paul has decided that he will end his tenure as the vocalist for Solstice. We're all very sad to lose him, and it's not a reflection of the quality of Paul's voice or his incredible ability as a front man. As we get older, we all lose our hearing to a certain degree, and even more so for people like Paul and myself who have had decades of Marshall abuse, and it's this that has caused the problem. Studio work with Solstice is not a problem for him, but the live environment where things can be hit or miss in terms of quality of sound onstage is. Paul's pitching had suffered on these first couple of gigs, and we felt we were all struggling.
"In Paul's own words: 'It's with sadness that I'm out of the new Solstice project. After 2 gigs it's clear that my voice isn't fitting in. There's no in fighting, no musical differences, just common sense. I don't feel 100% and it's not fair on the band to continue trying to blag my way though the hearing and pitching problems I'm having on stage. I know that Rich Walker and I will remain friends and I'm sure we'll work together again at some point this year. Until then I going to get stuck into the solo album that up till now has only had 50% of my attention. I hope Solstice fans around the world understand the decision that's been made and I can only apologize for the European dates getting canceled because of it. I wish Rich, Len, Andy and of course my old friend Rick all the best.'
"As Paul say's, we intend to collaborate in the summer and make a racket together, but this time I think it will be more on Paul's home ground where we all know he can excel and hold his own. We four remaining members are fucking pissed off the way things have turned out, but we're all committed to doing the best we can in terms of a live performance. I can't thank Paul (& Ness!) enough for all his (their) hard work, and it has been hard work no doubt about it. There isn't anybody more deserving of recognition than him in my eyes for his work with SCARAB in the 80's/00's and his soon to be unleashed solo outing. We're big boys now, you'll not hear a bad word out of us about Paul, he'll always be a mate to all of us."