God Of Atheists Reveals Full Band Lineup
God of Atheists, the new Asgeir Mickelson led project that was voted the most anticipated released of 2013, has now announced the band's complete lineup and revealed the coming debut album won't actually see release until next year. Mickelson comments:
"The time has come to reveal the whole line-up for the God Of Atheists project. I am extremely proud to announce the addition of bassist Lars K. Norberg and soprano Vibeke Stene!
"They are completing the line-up which already consists of the excellent musicians ICS Vortex, Ihsahn, Trym, Carl A. Tidemann and Sareeta. Excitement is an understatement. Time to start shopping for a deal and get this album out in 2014."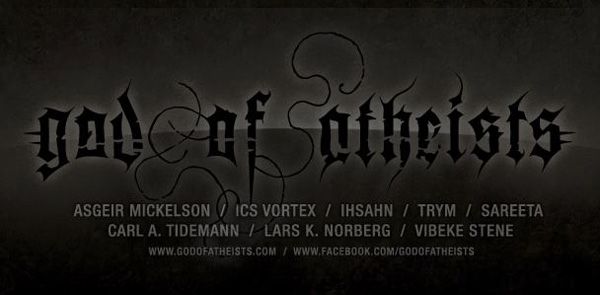 What's Next?
Please share this article if you found it interesting.
---
0 Comments on "God Of Atheists Reveals Full Lineup"
Be the first to comment! Tell us what you think. (no login required)
To minimize comment spam/abuse, you cannot post comments on articles over a month old. Please check the sidebar to the right or the related band pages for recent related news articles.