Valient Thorr Streaming New Song "No Strings Attached"
North Carolina's Valient Thorr will release sixth studio album "Our Own Masters" on June 18th via Volcom Entertainment. The album was recorded at Ronnie Jone Sound Studios in Athens, GA and produced, engineered, and mixed by Kyle Spence of experimental rockers Harvey Milk.
Now, Pitchfork gives music fans a first-listen to the new LP, premiering the new song "No Strings Attached." Check out the song right here.
"When we wrote the music for 'No Strings Attached' it sounded like nothing we had ever done before," says Valient Thorr front man Valient himself. "The vibe reminded me so much of the feeling I would get when Thin Lizzy's 'The Boys Are Back In Town' would come on in the summertime and it was hot and all you wanted was to get off work and grab some beers and see what kind of party was happening. We always talk about positive vibrations, but a lot of our stories either come from or end up with dark tones, so I tried to write something that had a 'we're still here, let's make the most of it' vibe. It is definitely supposed to be a bright view of the future."
The album's track listing is as follows:
1. Immaculate Consumption
2. Master Collider
3. Manipulation
4. No Strings Attached
5. Life Hands You Demons
6. Torn Apart
7. Cerberus
8. Good News Bad News
9. Insatiable
10. Crowd Pleaser
11. Nervous Energy
12. Call Off the Dogs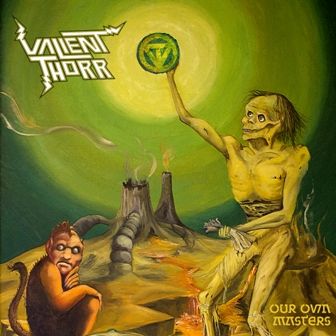 What's Next?
Please share this article if you found it interesting.
---
To minimize comment spam/abuse, you cannot post comments on articles over a month old. Please check the sidebar to the right or the related band pages for recent related news articles.