Born Of Chaos Records Announces Spring 2013 Label Showcase
Born of Chaos Records will be holding hte Spring 2013 "Chaos In Music" label showcase in Atlantic City at Le Grand Fromage on April 13th.
The showcase will be headlined by Lancaster, PA's March to Victory, a band that's spent the last 2 years touring, sharing the stage with the likes of Cannibal Corpse, Deicide, Napalm Death, Obituary, Suffocation, Marduk and many more.
Co-Headlining the showcase will be Roanoke, VA's Doom Syndicate, currently ranked #6 on the Reverbnation U.S. national metal charts. Also on the bill is Millville, NJ's Stoner titans MeatPlow, Howell, NJ's blackened thrashers Anticosm, Lehigh Valley, PA's thrash grinders Chinga!, Philly rockers Machines of Penalty and Leola, PA's psychedelic death metallers Sandraudiga.
This will be Born of Chaos Records 5th label showcase in the past 3 years. Last fall the event, held at Philly's historic Trocadero theater was delayed due to a bomb threat, which was later determined to be a hoax according to the F.B.I. All of the bands on the showcase are working on new material that will be released through Born of Chaos Records in 2013.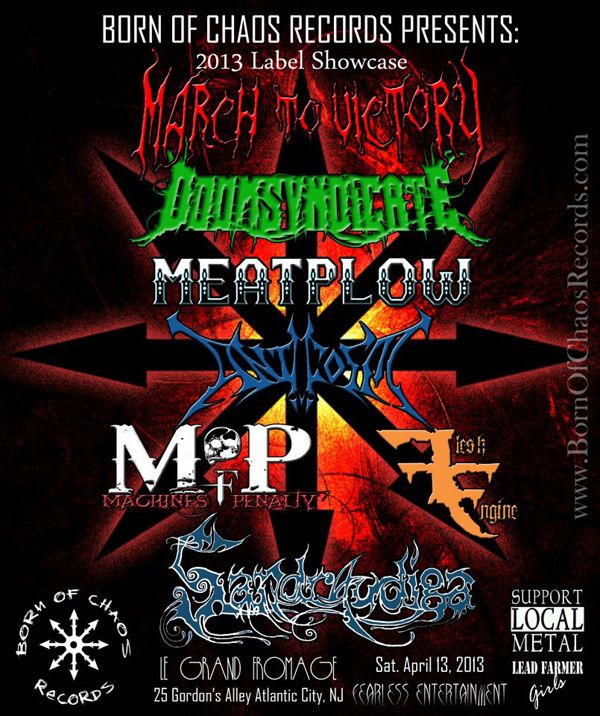 What's Next?
Please share this article if you found it interesting.
---
0 Comments on "Born Of Chaos Records Announces Spring Showcase"
Be the first to comment! Tell us what you think. (no login required)
To minimize comment spam/abuse, you cannot post comments on articles over a month old. Please check the sidebar to the right or the related band pages for recent related news articles.