The Last Savior Of God Comments On Anniversary Show
Colorado's The Last Savior of God has issued the following recap of the band's 1 year anniversary show:
"Our 1 year anniversary was a huge success. We had well over 200 people at the venue and rockin out. To all of those people who came out we thank you.
"We would also like to thank Tony of Sunshine Studios and the staff of Sunshine Studios for making the show a great success and making the show possible."
You can also check out the band's music and find information on upcoming live shows by heading over to The Last Savior of God's MySpace profile. The promotional poster for the band's previously held anniversary show can also be viewed below.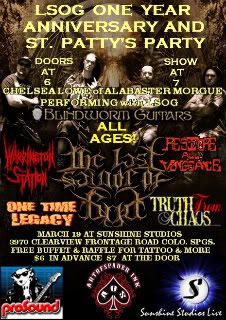 What's Next?
Please share this article if you found it interesting.
---
0 Comments on "The Last Savior Of God Comments On Anniversary"
Be the first to comment! Tell us what you think. (no login required)
To minimize comment spam/abuse, you cannot post comments on articles over a month old. Please check the sidebar to the right or the related band pages for recent related news articles.