"Mayhem: 2008 - 2013" Photo Book To Commemorate The Rockstar Festival
Band Photo: Slipknot (?)
Fans can relive their Rockstar Energry Drink Mayhem Festival memories with the "Mayhem: 2008-2013" book, a collection of dynamic and bold photos spanning the first six years of the festival. The following press release was also issued:
"Created by Los Angeles-based photographer Strati Hovartos, this book gives an inside view of the fearless, behind-the-scenes look at the art, the rebellion and the grit that, in all of its glory… is Mayhem! As the official tour photographer, Strati's body of work has documented the festival since its inception.
"Striking and bold, his images have captured epic performances of Metal greats, such as Rob Zombie, Slayer, Slipknot, Korn, and Avenged Sevenfold. With the turn of every page, your mind will be dominated and transported to the timelessness of the Rockstar Energy Drink Mayhem Festival.
"'Mayhem: 2008-2013' features special forewords by Rockstar Festival co-creators Kevin Lyman and John Reese, as well as Slipknot and Stone Sour's Corey Taylor and Rockstar Energy Drink's Jason May.
"'Mayhem: 2008-2013' is available now as a 2014 ticket buyer exclusive in select markets, so make sure to add 'Mayhem: 2008-2013' to your Ticketmaster ticket purchase at check out! If you purchase a VIP package, 'Mayhem: 2008-2013' automatically comes with your purchase. If you've already purchased your ticket or 'Mayhem: 2008-2013' isn't available in your market, standby – more details on how to get the book are coming soon, including details on how to obtain it via the upcoming Rockstar Festival online store.
"'Mayhem: 2008-2013' started out as a solo project that eventually evolved into a collaboration of some of the industry's most talented photographers. Inspired by the unique perspectives and signature styles of such photographic greats such as Shawn Crahan ~ aka Clown of Slipknot, Scott Uchida, Rob Fenn, Rudy De Donker, Lisa Johnson, Dean Karr, Bobby Tongs, Machine Head's Robb Flynn and Justin Bauer, Strati was confident that the only way to fully project an all-encompassing and well-rounded view of the Mayhem experience was to include their work of riveting images alongside his."
Strati Hovartos comments: "I wanted to be able to create a book that was a thorough look at Mayhem, and I felt my vision was limited to my perspective. So I reached out to a few of my favorite photographers and asked them to be a part of it. Along with my photos, I believe this book captures what Mayhem has been and is a vision of what Mayhem will be in the future."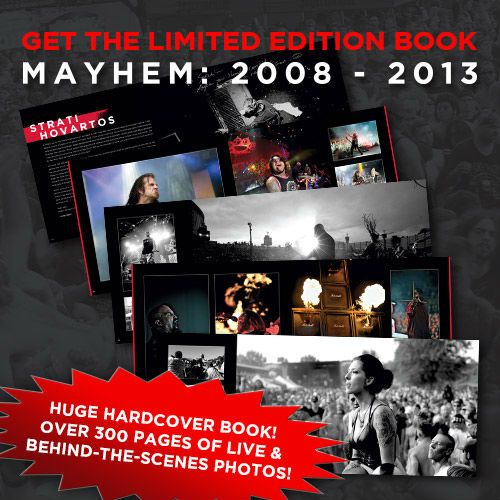 This year's headliners include Avenged Sevenfold, as well as Korn, Asking Alexandria and Trivium. The Coldcock Herbal Whiskey stage will feature headliner Cannibal Corpse as well as Suicide Silence (featuring new singer Eddie Hermida), Miss May I, Mushroomhead, Texas Hippie Coalition and King 810. The Sumerian Records stage will feature headliner Body Count featuring Ice-T as well as Upon A Burning Body, Veil of Maya, Darkest Hour and the local Headbang For The Highway winner. The Victory Records stage will feature headliner and Revolver Magazine cover band Emmure as well as Ill Nino, Wretched, Islander, and Erimha. Dates are as follows:
7/5 - CA - San Bernardino - San Manuel Amphitheatre
7/6 - CA - Mountain View (San Francisco) - Shoreline Amphitheatre
7/8 - WA - Auburn (Seattle) - White River Amphitheatre
7/9 - ID - Boise - Idaho Center Amphitheatre
7/11 - AZ - Phoenix - Ak-Chin Pavilion
7/12 - NM - Albuquerque - Isleta Amphitheatre
7/13 – CO – Denver – Fillmore Auditorium (Rockstar Energy Drink TASTE OF MAYHEM)
7/14 - CO - Denver – Red Rocks Amphitheatre (Main Stage Only + Body Count feat. Ice-T)
7/16 - MO - St. Louis - Verizon Wireless Amphitheatre
7/17 - MI - Detroit – DTE Energy Music Theater
7/18 - WI - Milwaukee - Eagles Ballroom (Rockstar Energy Drink TASTE OF MAYHEM)
7/19 - IN - Indianapolis - Kilpsch Music Center
7/20 - IL - Chicago - First Midwest Bank Amphitheatre
7/22 - MA - Mansfield (Boston) - Xfinity Center
7/23 - NY - Saratoga - Saratoga Performing Arts Center
7/25 - ON - Toronto (Canada) - Molson Amphitheatre
7/26 - PA - Burgettstown (Pittsburgh) - First Niagra Pavilion
7/27 - CT - Hartford - Xfinity Theatre
7/29 - NY - Darien Center - Darien Lake
7/30 - NY - Wantagh - Nikon Theatre At Jones Beach (Main Stage Only)
8/1 - NJ - Camden (Philadelphia, PA) - Susquehanna Bank Center
8/2 - PA - Scranton -The Pavilion At Montage Mountain
8/3 - VA – Bristow (Washington, DC) - Jiffy Lube Live
8/5 - GA - Atlanta - Lakewood Amphitheatre
8/7 - OK - Oklahoma City – OKC Air Park
8/9 - TX - Dallas - Gexa Energy Pavilion
8/10 - TX - The Woodlands (Houston) - Cynthia Woods Mitchell Pavilion (Main Stage and Second Stage Only + Body Count feat. Ice-T and Emmure, no King 810)
What's Next?
Please share this article if you found it interesting.
---
To minimize comment spam/abuse, you cannot post comments on articles over a month old. Please check the sidebar to the right or the related band pages for recent related news articles.