Hamlet
From: unknown
Last Known Status: Unknown
Latest Hamlet News
Below is our complete Hamlet news coverage, including columns and articles pertaining to the band. Some articles listed may be indirectly related, such as side projects of the band members, etc.
The first edition of the Costa De Fuego Festival 2012 will take place on July 20th and 21st in Benicassim, Castellon, Spain in the Las Palmas desert. Camping will start one day before and extend to one day after. There will be over three stages and fifty bands playing the festival, an initial list of which we have put below. Get more information on the Festival by heading over to its website.
GUNS 'N' ROSES
MARILYN MANSON
NIGHTWISH
IN FLAMES
OPETH
PARADISE LOST
WARCRY
LACUNA COIL
BARON ROJO
OBUS
HAMLET
BERRI TXARRAK
KATATONIA
AMORPHIS
CANCER BATS
WE ARE THE OCEAN
ROLO TOMASSI
STEEL HORSE
NOCTEM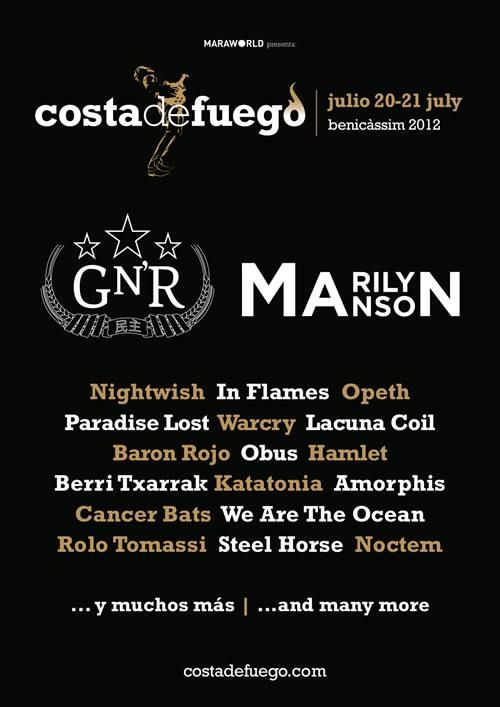 Brazilian thrash metal legends Sepultura recently completed a tour of Europe which saw them appear in many venues, as well as several festivals. A message from the band reads as follows:
"First leg of European tour is over! 22 shows in a row! That was a first. We have never done so many shows with no days to rest in between.
"Of course we had some minor problems on the way. Jean got his thumbs busted and had to start playing with gloves on to protect the wound. In Prague, so cold! Derrick almost got a cold and lost his voice. And the problem with so many shows in a row is that you just don't have time to recover!
"Mr. Nick Harris (drummer, Armed For Apocalypse) had to wear a sign not to be mistaken with Derrick. More...