We Are The Ocean
From: unknown
Last Known Status: Unknown
Latest We Are The Ocean News
Below is our complete We Are The Ocean news coverage, including columns and articles pertaining to the band. Some articles listed may be indirectly related, such as side projects of the band members, etc.
The first edition of the Costa De Fuego Festival 2012 will take place on July 20th and 21st in Benicassim, Castellon, Spain in the Las Palmas desert. Camping will start one day before and extend to one day after. There will be over three stages and fifty bands playing the festival, an initial list of which we have put below. Get more information on the Festival by heading over to its website.
GUNS 'N' ROSES
MARILYN MANSON
NIGHTWISH
IN FLAMES
OPETH
PARADISE LOST
WARCRY
LACUNA COIL
BARON ROJO
OBUS
HAMLET
BERRI TXARRAK
KATATONIA
AMORPHIS
CANCER BATS
WE ARE THE OCEAN
ROLO TOMASSI
STEEL HORSE
NOCTEM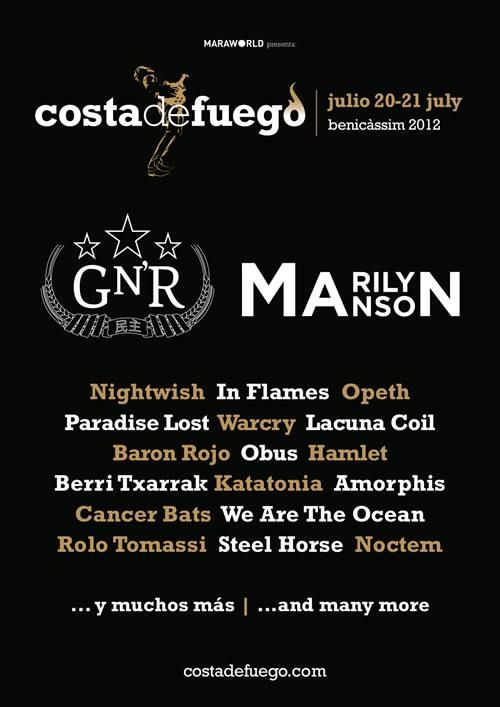 The organizers of Britain's Download Festival has announced a urther seventeen bands for this years edition of the event. The festival will now see appearances from Hollywood Undead, Steel Panther, Trigger The Bloodshed, Lauren Harris, Hexes, Hunting The Minotaur, Japanese Voyeurs, White Man Kamikaze, Loverman, Black Spiders, General Fiasco, Sacred Mother Tongue, The 69 Eyes, Dear Superstar, Pulled Apart By Horses, Violent Soho and Brides.
The full lineup is now as follows:
Friday Main stage:
Faith No More
Korn
Limp Bizkit
Killswitch Engage
Billy Talent
Staind
The Blackout
Hollywood Undead
Friday Second stage:
Motley Crue
Opeth
Lacuna Coil
Bring Me The Horizon
Dir En Grey
Parkway Drive
A Day To Remember
In This Moment
Steadlur
Friday Tuborg stage:
Meshuggah
Duff McKagen's Loaded
Backyard Babies
Voivod
Middle Class Rut
Lauren Harris
Sylosis
Hunting The Minotaur
Japanese Voyeurs
White Man Kamikaze More...
The organizers of Britains Download Festival has announced a string of new confirmations for this years event. The festival will now also see performances from the likes of Hatebreed, Voivod, God Forbid, Suicide Silence, Sylosis, Therapy?, Tim "Ripper" Owens, In This Moment, We Are The Ocean, Turbo Wolf, A Day To Remember, Backyard Babies, Hostile, Esoterica, Man Raze, Middle Class Rut and No Americana.
The lineup for the event is now as follows:
Faith No More
Slipknot
Def Leppard
Korn
Whitesnake
Limp Bizkit
ZZ Top
Marilyn Manson
The Prodigy
Motley Crue
Down
Chris Cornell
Black Stone Cherry
Opeth
Meshuggah
Journey
Hatebreed
Lacuna Coil
Tesla
Therapy?
Pendulum
Dream Theater
Killswitch Engage
Trivium
Tim "Ripper" Owens
Sevendust
Voivod
Papa Roach
Static-X
In This Moment
The Answer
Clutch
Buckcherry
Suicide Silence
Shinedown
Anvil
Sylosis
Staind
Bring Me The Horizon
Fightstar
Dragonforce
Five Finger Death Punch
Devildriver
Duff McKagen's Loaded
You Me At Six
Skin
Parkway Drive
Dir En Grey
The Blackout
Billy Talent
Lawnmower Deth
Architects
Backyard Babies
A Day To Remember
Volbeat
We Are The Ocean
Auger Bane
Hostile
Man Raze
Karma To Burn
Steadlur
Go:Audio
Middle Class Rut
Turbo Wolf
No Americana