Interview
Thy Art Is Murder Bassist Sean Delander Spreads The "Hate"
Original released in the band's native Australia, Thy Art Is Murder teamed up with Nuclear Blast for a European and North American release of latest album "Hate" earlier this month.
With the album drop handled and a label deal in the bag, the band is now gearing up to brutalize audiences on multiple continents, including an impending Summer trek with Cattle Decapitation. Find out all about upcoming live activity, what went into recording "Hate," and the filming of a music video in the interview below with Thy Art Is Murder bassist Sean Delander.
xFiruath: The album was already previously released in Australia, and now will be released through Nuclear Blast. How did you get hooked up with Nuclear Blast?
Sean: From my understanding Monte Conner at Nuclear Blast U.S had a few people tell him to check us out, he did and signed us. Pretty simple. Monte signed Slipknot, Machine Head, and a few of the other huge Roadrunner bands so it's pretty wild that he came looking for us.
xFiruath: You've got some exciting upcoming live shows – tell me about your impending live activity.
Sean: We have an Australian tour in June in support of the "Hate" album and we are taking along Cattle Decapitation which we be awesome. After that we are off to Europe to play some festivals, we also have a few shows with Between the Buried and Me which a few people in the band are very happy about, its pretty crazy that now we are starting to play with bands that we have been listening to for years. Hopefully after that we go to the U.S. to open the Summer Slaughter tour with Dillinger headlining… if we win the comp of course!
xFiruath: That album artwork is killer – who designed it, and is there a connection to the themes of the album?
Sean: His name is Brent Elliot White. As far as I know the idea was taken from one line in particular off of the album "collapse into a dead sun, under the tides swept into oblivion" then he threw in a crazy 3 headed beast killing everything and we were like "yeah sick!"
xFiruath: Does "Hate" follow the theme the title would suggest?
Sean: If you have given the lyrics a read you will probably find an on going theme of disgust for the human race, hate for religion, and just hating things in general. Its not that we hate everything, but with us being a death metal band its not like we can sing about the things we love, like Kit Kat Chunky's and our pets.
xFiruath: When were the songs for this album written and what's your writing process like?
Sean: Tom and myself wrote a majority of the material, I moved up to his house and we wrote the songs over the course of 2 months. Tom would go to work and I would just sit around at his house drinking coffee, writing riffs and recording them the best way I could, then we would sit down together and work on the ideas that weren't terrible.
xFiruath: How does the sound of this release differ from previous albums?
Sean: I think the production on "Hate" is a lot better then our last record. We recorded "The Adversary" on our own due to not having much of a budget and I feel it is missing something, however this time around we were lucky enough to have to full studio/producer experience which had a massive influence on the finished product. As far as the songs go I feel that this time around we went for a more direct approach to writing the songs, less riffs and just trying to make the riffs that are there count.
xFiruath: Can you give me a rundown of how recording went and where it took place?
Sean: We recorded with Will Putney at Machine Shop in NJ. We had about 5 days of preproduction with Will then drums were tracked. After that we did guitars, bass, and vocals all kind of at the same time, guitars in the day then vocals at night for the songs that were tracked. It ran really smooth and was an all round good time.
xFiruath: Last year you guys released a music video for "Reign of Darkness." Tell me about how that went down, and will there be any other videos come for tracks off this album?
Sean: We did the clip with our friend Chris Elder who we have been working with since the band started pretty much. We wanted the clip to be really dark, like actually dark as in not much light so the performance part of the clip is more or less just a silhouette of us rocking out. The other part of the clip is actually our singer's girlfriend being possessed or dying or something. Turned out being really cool. We are currently brain storming for the next clip and hope to shoot it quite soon, so stay tuned.
xFiruath: How is your local metal scene?
Sean: When this band started there wasn't much of a metal scene for the younger bands so we found ourselves playing a lot of local hardcore shows, in mess halls, youth centers, etc. which is something we haven't lost touch with. We still play around Western Sydney which is the scene where it all started for us and it is something we plan on doing as often as possible.
xFiruath: What albums are you digging lately, and is there anything coming out soon you are really excited about?
Sean: I have been listening to "Danza 4," Gojira's "From Mars to Sirius," Deftones "Koi No Yokan," other than that I have just been listening to some throw back albums from my teenage years. I'm hoping that maybe a new Behemoth album might be in the works but I guess Ill just have to wait and see.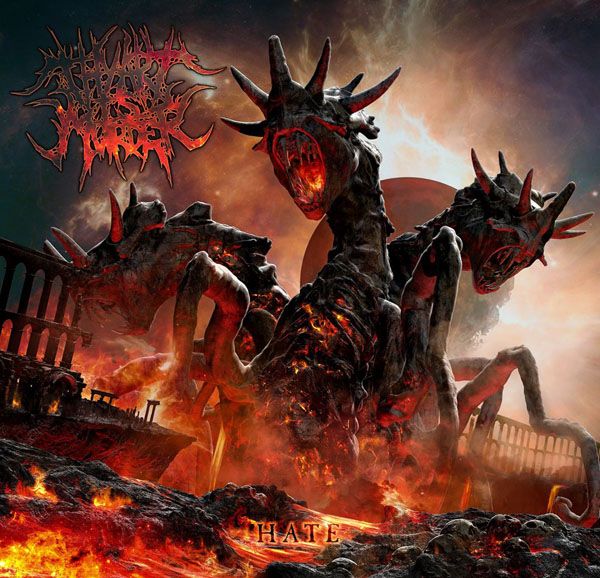 Ty Arthur splits his time between writing dark fiction, spreading the word about underground metal bands, and bringing you the latest gaming news. His sci-fi, grimdark fantasy, and horror novels can be found at Amazon.
What's Next?
Please share this article if you found it interesting.
---
To minimize comment spam/abuse, you cannot post comments on articles over a month old. Please check the sidebar to the right or the related band pages for recent related news articles.