Interview
Anciients Discusses New Album "Heart Of Oak"
Blending together prog rock and metal, Vancouver's Anciients recently signed to Season of Mist and is now gearing up to release the "Heart of Oak" album.
What can fans expect from the disc? According to a press release, something truly spectacular: "Somewhere between sheer, apocalyptic heaviness and precise riffing, lays otherworldly Anciients - a rock juggernaut forging crushing heavy metal evocative of veterans High on Fire and contemporary sonic craftsmen, Opeth."
This coming April 16th you'll get the chance to find out if the band lives up that lofty pedigree (you can also check out an advance track below), and pre-orders are available through Season of Mist at this location.
With another two and a half weeks to go before the album's official drop, guitarists/vocalists Chris and Kenny corresponded with Metalunderground.com to explain how the band reached this point and what went into the creation of "Heart of Oak." Find out about the hardships and loss the group suffered during the writing and recording, along with a full track-by-track breakdown of the release, through the full interview below.
xFiruath: Can you give me a brief history of the band for anyone who isn't familiar with Anciients, and how did you guys end up getting connected with Season of Mist?
Chris: Kenny, Boon and I have been playing music together for close to a decade. We formed Anciients after the breakup of our previous band Spreadeagle, a Turbonegro/Motorhead style party rock/punk band. Kenny had a bunch of trippy heavy riffs and I had pages of crazy lyrics. None of it fit what we had been doing with our previous band. The original guy we had playing drums left to focus more on his other band (in which Kenny also plays guitar) Black Wizard. Hannay joined up, which was stellar, the kid is amazing. We jammed a ton, played a ton of local shows and recorded the 7". Boon left for a short while to tour with 3 Inches Of Blood. Had a dude fill in for a while until he came back. We weren't sure where that was going but personally I'm so glad Boon came back to the band. Not sure this would've all went down like it has without him and not sure I would've wanted to do it without him.
But as for why the band started or even fucking exists, essentially we wanted to do something more creative. Heavier. Mellower. Whatever. And I learned a lot from being in Spreadeagle, had a decent game plan this time and some basic goals. Speaking for myself, Kenny's cool space metal riffs came along at the perfect time in my life. I'm having a blast with this. A lot of work but very rewarding so far. It feels right to be doing this now. Hard to explain. But people seem to like the music, which is great. And we really dig playing it and creating it, which is crucial. As for the Seast of Mist thing, I sent our rough mixes to the label head. We chatted a bit. Maybe got us on their radar. I have always been a fan of SOM, hence sending the record out to Michael Berberian. But it all really got going when we met our manager Sean. He brought the record to the SOM U.S. office.
Kenny: Well 3 out of 4 of us used to play in a band called Spreadeagle. After we dismantled in the summer of 2009 we started working on something that was fresh and new to us beginning in early 2010 I believe. Our manger and Heavy Metal super dad Sean Palmerston was probably the main reason we got in to talks with Season of Mist , and now we owe him our souls hahaha.
xFiruath: On the new album, could you give me a brief track-by-track breakdown?
Chris: Raise the Sun - For me it's the most all-encompassing song on the record, in terms of basic sections. It has a bit of everything we are about, almost. Overthrone - I really like playing this one live. It has some sections that sound tough to play but are fairly simple once you have them cinched up. Really like how Kenny's vocals on this has a 90's Seattle vibe. Falling in Line - First song we wrote, also the toughest for us to finish. Went through a couple chorus/pre-chorus ideas before settling on how it is now, and added the doomy outro after the fact. The intro has that big Bon Jovi Dead or Alive riff with the solo over it. Total southern 70's vibe that I dig. The Longest River - has some of my favorite moments and some of my least favorite. This one felt a tad rushed vocally, and I thought I could've delivered stronger lyrics, but some of the riffs fucking punish, so it's all good. One Foot in the Light - beautiful guitar playing by Kenny, you can hear him breathing. Petty neat. We lost some amazing people to cancer recently so this was a nice tribute to them and a nice break for the listener.
Chris: Giants - another one we wrote early on, one of my favorites. So fun to play, the chorus riff is nuts and people really dig this one. Catchy I guess. Faith and Oath - musically this song was mostly me, which is in contrast to the bulk of the songs which are musically mostly Kenny. Another simple catchy song. Features all 3 of us singing different parts. Boon has a really cool sounding voice so we hope to use that more on the next record. Flood and Fire - I think this one is my favorite song to be honest. Cool build up, then the Tool riff. we all dig Tool a lot, and the working title for this song was "The Tooler," haha. Fucking killer chorus vocal and insane heavy outro. Rules to listen to really loudly. For Lisa - This song is for my step mom who died while we were recording essentially. Fucking sucked shit. This song is about that time and for her in every way. The train samples are for my dad. He lives on a farm on a mountain. Train passes by very 20 minutes. Thought it was fitting. Tracking this song was tough, hard emotionally and tough to play, really out of my comfort zone playing wise.
Kenny: Raise the Sun - For the intro I was really trying to go for a folky kinda sound , I was listening to a lot of Fleet Foxes at the time and in some way shape or form that section is because of them. From there it just keeps getting heavier, moving into classic rock and metal sections. Overtthone - This tune reminds me of a heavy sounding Rush for the first half for some reason, but gets nice and scummy in the later half. Falling In Line - Actually this is the first song that was written for ancients before Anciients were Anciients. A few parts were changed drastically but very pleased with how it turned out. It is definitely a song with lots of variation. It features Guest vocals by Chris Earl Clackston of Galamex. The Longest River - This is the longest song on the record, and it actually used to be longer but we trimmed it down a bit before we recorded it. Also it has our very own AC/DC thunderstruck style riff in it, sort of haha.
Kenny: One Foot in the Light - I had ideas of writing a little interlude piece on a nylon string guitar, so I rented a piece of shit and this is what I came up with while sitting in the control room of the studio. Giants - I would say it is the rock song of the record as far as riffs and vocal melodies. Also one of the earlier songs we had finished as a band. Faith and Oath - Blast beats and Tool riffs, with a spicy prog riff near the end, includes guest vocals from Scott Ruddy of Weirding. Flood and Fire - My favourite song as a whole, it starts off nice and slow and works its way in to awesome.Iits my favourite one for vocals easily and has lots of personal meaning. For Lisa - It is a total song out of left field compared to the rest of the record but personally I believe it fits perfectly. It also shows a different side of our influences, we love the Allman brothers and Grateful Dead jam stuff and I think it shows in this tune. We dedicated it to the memory of Lisa Rolland.
xFiruath: Tell me about the recording process for this album. Where did recording take place, who did you work with, and how did the process go overall?
Chris: We recorded at the hive in Vancouver with Jesse Gander. He rules, The Hive rules, not one complaint. Can't wait to record with him again. One of our best friends now. Life has thrown so many cool people at us in the last couple years. He is top fucking shelf. THE WIZARD.
Kenny: We recorded at The Hive Creative Lab in Burnaby B.C. with the amazingly talented Jesse Gander. The process of making this record was great for our first time. We tracked the record over a 5 day period and mixed for 3. For Chris and I it was a bit of a tough situation with some crazy shit going on outside of recording, but the recording was definitely therapeutic to some degree and a good way to escape.
xFiruath: What's happening as far as overall lyrical theme on this release?
Chris: I write verse. Lots of it. And afterwards work it into the songs. Mostly I'm inspired by history and archeology reference books, etc. symbolism, secret societies, etc. Kenny and I wanted to make sure we included some metaphor for the cancer, the natural disasters, and some of the human awakening we had been seeing in the world while we shaped this record. Some fantasy stuff going on. But mostly symbolism and quite a bit of dream recreation is a cool singable way? Haha.
Kenny: The lyrical theme is somewhat dark, given some of the personal family issues that were going on during the lyric writing process. We mainly like to write about mythological topics, recreation of dreams, and also telling stories.
xFiruath: Who handled the artwork and how does it connect with the album?
Chris: Our good friend Alison Lilly, she is amazing. Not sure how it connects to be honest. It's her interpretation of our ideas and overall vibe. That's why you hire an artist, to be artistic.
xFiruath: What do you have as far as upcoming tour dates in support of the album?
Chris: We are the direct support for the Death to All tour. April 13th – 28th in the states, which is unreal. I am a huge old Death fan. We are playing Scion Rock fest June 1st in Memphis, and we have a Canadian tour to announce ASAP as well.
xFiruath: What's going down in the Vancouver scene these days and are there any particular venues you guys really enjoy playing?
Chris: The Vancouver scene is amazing. Tempest, Galgamex, Baptists, Archspire, Haggatha, Bison, Black Wizard, Chapel, Mass Grave, Tobeatic, Nylithia, Burning Ghats, Hopelues, Astrakhan, soooo many more, this is nothing. I book like 5-10 shows for bands in Vancouver a month. The scene is fucking crazy right now. Ask around. Venues? Rickshaw, Astoria, Biltmore, Interurban are my favorites.
Kenny: There are so many killer bands right now in the Vancouver scene it's ridiculous, on any given weekend you can go see amazing music at a cheap cost. My favorite venues would probably be the Rickshaw Theatre, and the Astoria.
xFiruath: Aside from your own music, what are you listening to and what albums are you most excited about coming soon?
Chris: Right now I'm listening to Fleshcrawls first record, lots of Craft, Bolt Thrower, Death, Neurosis, Cough, Pallbearer, Mayhem. I listen to mainly older metal and classic rock. Never changes really. I have no idea what new albums are coming out so fuck if I know brah.
Kenny: I have been getting deep in to a band called Astra as of late, they have a great 70s Pink Floyd and Mahavishnu Orchestra vibe going on its great. I mainly listen to lots of jazz and blues, classic rock, and various metal. I'm really digging Rory Gallagher as of late he slays.
xFiruath: What's the best show you've seen in recent memory?
Chris: Neurosis. Saw them in January. Best show I have ever been to. Fucking crushed my mind.
Kenny: I get to live shows as often as possible, my favorite shows I've been to recently were Graveyard and Neurosis both in Seattle and both amazing gigs. Tool is always awesome too.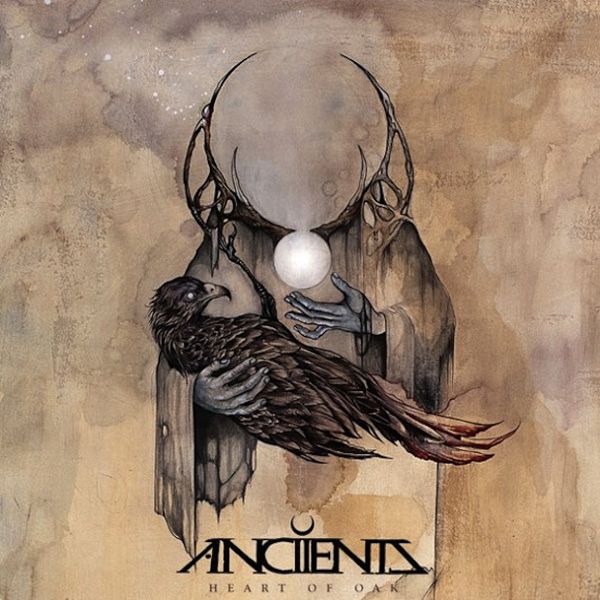 Ty Arthur splits his time between writing dark fiction, spreading the word about underground metal bands, and bringing you the latest gaming news. His sci-fi, grimdark fantasy, and horror novels can be found at Amazon.
What's Next?
Please share this article if you found it interesting.
---
0 Comments on "Anciients Talks 'Heart Of Oak' Album"
Be the first to comment! Tell us what you think. (no login required)
To minimize comment spam/abuse, you cannot post comments on articles over a month old. Please check the sidebar to the right or the related band pages for recent related news articles.