Just For Fun
Ancestral Metal Band To Sing Of American Themes
Vocalist Tlatecatl of preshipanic metal band Yaotl Mictlan has made the announcement that the band will be singing in English and featuring lyrics about Western culture on its next album, which should come out at the end of 2012. The following statement was made on Yaotl Mictlan's Facebook page:
Hey hermanos de metal, as you well know Yaotl Mictlan has relocated to Salt Lake City to escape political persecution in Mexico. Well, in our time in Utah we had what you would call an epiphany. All of our songs have been about jaguars, aztec temples and the Olmec culture. I realized what a big farce this is, since none of us dudes grew up during those times. How could I possibly sing about Christopher Columbus and the denigration of our culture if I still eat at Kentucky Fried Chicken and Burger King and use a laptop?

So we decided to cut the crap, amigo, and I got a new appreciation for Gringo culture living here! Our next album will have themes that are reflective of this, like fast food, bling, television and American ideals. We decided to sing in English so that more people can hear our music, too. I mean, folkloric metal is not what it seems to be. These bands like Korpiklaani sing about culture and traditions that they really aren't part of. They write about vodka and beer and we all know that on the basura money we make at these gigs they are lucky to have enough dinero to buy Cisco or Boone's Farm.
Tlatecatl went on to say that the new Yaotl Mictlan release will be called "Dentro del Manto Gris de McDonald's."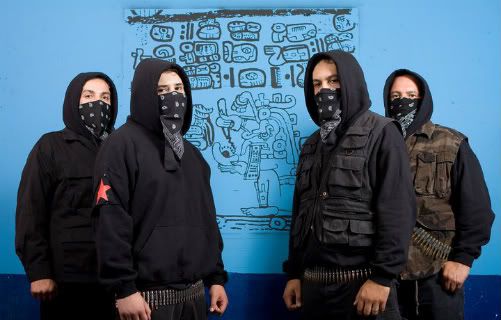 Read the full article at this location.
What's Next?
Please share this article if you found it interesting.
---
To minimize comment spam/abuse, you cannot post comments on articles over a month old. Please check the sidebar to the right or the related band pages for recent related news articles.