Interview
The Blood Royale Discusses Recent Bloody Show On Tour With Goatwhore
Just judging by guitarist JT Royale's pants, which contain a plethora of patches, he's a do-it-yourself kind of guy. In fact, the whole band's hard working DIY ethic has led them to become one of the most visible bands in Austin, Texas. Their merch is everywhere. They're on several bills seemingly every week, from local shows to opening gigs for touring bands. But the buck doesn't stop in Austin. The band has self-financed an interstate tour and are currently on the biggest tour of their careers with one of the most popular extreme metal bands of the last decade, Goatwhore.
Touring with Goatwhore is extra special as their friend and Austin local, Trans Am plays with the Metal Blade recording artist. Trans Am is not only a friend, but sometimes a member of The Blood Royale. In fact, the band features three bassists. Whoever fills the spot depends on where and when they play. Tonight, two of the three bassists (O'Neal and Diego who also play in Hexist and God Fearing Fuck, respectively) were on hand to talk about their contributions to the band.
Suds flowed, smoked billowed, hair twirled, fists pumped, bodies bumped as The Blood Royale played filthy, crust-addled metal (think Venom meets Discharge) on a stop off in their hometown. Before they kicked out the jams, the entire band, including two-thirds of their bassists, gathered to discuss their tour, including an especially bloody show, and upcoming releases. Thank you to Nathan Daughdrill for providing us with professionally-shot videos of the band.
Rex_84: Your tour with Goatwhore started last night in Beaumont, Texas. How was the first night of the tour?
JT: That show was awesome. The Beaumont scene came out and went crazy.
Rex_84: What kind of crazy stuff happened?
Timmo: There was a lot of blood, beer, broken glass.

JT: There was blood in the bathroom after the show. I saw it. Somebody got hurt.

Johnny: There wasn't a fight. It was just rowdy. Houston was rough.

JT: There were people hanging from the rafters on Friday night.
Rex_84: Was that the tour send-off show?
JT: That was our tour kick off show in Houston. Yes.
Rex_84: How does it feel to get out on tour with Goatwhore, especially considering your friendship with their bassist, Trans Am?
JT: Trans Am plays with us every once in a while. It's good to be out with Trans Am. I've toured with Trans Am before with War Master. It's good to be out with my homie. We are roommates. We get along great. We have a lot of laughs.

Timmo: Just a bunch of bros on the road together.

JT: It's a bro-cation.
Rex_84: How are you with the rest of the band? Have you know those guys for a while?
JT: I've know Ben [Falgoust] for twenty-plus years. I've known Sammy [Duet] for maybe ten. Zack [Simmons], a couple-few. They're good guys. I love them. They treat us well.

Johnny: They like to party. I like to party.

All: We all like to party.

Timmo: We can't all say we like to party. Diego, do you like to party?

Diego: Yes

Timmo: O'neal, do you like to party?

O'neal: Yeah, I like to party. I've got one of our signature drug pipes in my pocket right now for all the drugs we're going to do while we party.
Rex_84: Tell me about this new merch you have?
Timmo: I blow glass so I figured I'd make some pipes to sell on tour. I've sold about twenty of them. I've almost paid for them already. In two days. A lot of pot heads in Texas.
Rex_84: Is this the biggest tour of The Blood Royale's career?
JT: So far. We did one last March that was really good. We went out on our own on that one and it was a complete success. This time we are headed west to play in Portland for a show that Jonathon Galyon is putting on, Northwest Hesh Fest. Benny told me they were going to California to play Ozzfest the same day, so we decided to team up and go west with those guys and come home with those guys after we both played our separate festivals. This comes in six more days.
Rex_84: What does your tour route look like?
JT: As you know we started in Houston Friday. Then Beaumont Saturday. Tonight in Austin. Tomorrow is San Antonio. El Paso, Tucson, Vegas, a day off and then on to Portland for Heshfest. Then back to Oakland to meet up with Goatwhore again and then Tahoe, Denver, a day off, then Albuquerque, Dallas and then back to the Lost Well in Austin. We're coming home and we're going to tear that place apart. Diego's other band, God Fearing Fuck is playing. Ass is going to be playing. It's going to be amazing. We played with God Fearing Fuck and Ass Friday. That was awesome. Those guys slayed . That show was great, people hanging from the rafters, punching each other. They were throwing some chick at me. Literally picking her up and throwing her at me. She fell into my pedals and was kicking the monitors off onto the floor. Man, I must have gotten turned off four or five times. I was cussin' and fighting it. It was awesome! I didn't have to stab anybody.
Rex_84: JT, what were some of the big tours you did with Dixie Witch?
JT: Oh yeah. I did Europe with Dixie Witch. I did quite a few things in the States with Dixie Witch. We played some pretty big shows, regionally. I've done some big stuff with War Master, me and Trans Am, but this one is what counts right now. That was the past. This is now and we're killing it.

Timmo: We're coming to the West Coast. We're going to sink that ship.

JT: Yep, and then in March we're going to do it again and we're going to the Midwest. We're doing eleven days in the Midwest in March. It's just going to be us.
Rex_84: Besides having a good relationship with Goatwhore, how do you fit stylistically?
JT: We've got a little more punk edge, where they have a little more black and death metal. We have some of that, but not as much. We like to leave it open. It writes itself. We don't really force or fight it. It's a little more punk. A little more D-beat. A little more thrashy. I don't know, they're pretty thrashy. I guess we'll find out in about two hours. (Note: everything he said was spot on, although I will say The Blood Royale has a hint of Texas that's not in Goatwhore, which has a hint of NOLA.)
Rex_84: The Blood Royale defies a single genre tag as it's a mix of thrash, D-beat and old school black metal. How did you come together with your backgrounds to create this mix?
JT: It just happened by accident. Timmo and I used to be roommates. I was in The Drunks. He has just started this band with some other cats. We got drunk one night and were laughing about it and I forced my way into the band. Johnson stepped up to the plate. They go way back together. They're from the Midwest together.

Timmo: I've known Johnny since he was fifteen.

JT: They toured down here and just never went home.
Rex_84: You're doing double-duty tonight playing with The Blood Royale and Mala Suerte (and he did it consecutively). How do you feel about that?
Johnny: It will be alright.

O'neal: I hope you brought a change of clothes.
Rex_84: Are you going to puke (Johnny used to play so hard in Mala Suerte that he puked)?
Johnny: It feels pretty good in here. I'm going to do my best to not throw up on myself tonight. So far I've only had one beer. One beer isn't really much of a party, is it?

O'neal: That's what the drug pipes are for.
Rex_84: (to O'Neal and Diego) You two are new members in the band.
O'neal: We switch off bass duties. I'm not able to tour right now, so Diego is set up to do that. I'm more like the in-town guy. Then if I have conflicting shit with my other band, TA steps in.

Timmo: It's whoever is available. Diego is playing tonight.
Rex_84: What are you playing tonight?
O'Neal: I'm playing the merch table. I'm pushing those weed pipes.

All: Laughs

JT: He plays a mean merch table.
Rex_84: When did you come into the band?
Diego: I came about a week before our first tour, March I guess. JT mailed me a CD. I learned it all. We practiced one time and hit the road. Since then we've been switching out bass players. I've come down and played maybe two or three other shows since our last tour. It's been awesome. Learning all their stuff is so easy because the music is written so well.
Rex_84: Are you from Houston?
Diego: Yes, I live in Houston. That's why TA and O'Neal take over down here, so I don't have to travel all the time. The Blood Royale plays a lot. They're a hard working band, constantly doing shit.

O'Neal: We play so much we need three bass players (laughs).

JT: Fuckin' rock 'n roll factory over here.

Timmo: It would be hilarious to do a show with all three bassists.

O'Neal: Spinal Tap that shit.
Rex_84: You released the 7-inch record "Flechette" and a self-titled full length. Are you working on new material?
JT: We are. We have about four songs written right now. We have two or three that we haven't quite finished yet because we've been too busy being a live band and a touring band. As soon as we get home and local shows are slowing down, we're going to get it together.

Timmo: We've got some stuff recorded and we're waiting for the opportunity for something to do with them. We're going to record more songs.

JT: We're going to do a split with God Fearing Fuck. It's going to be a split 7-inch. We've got two songs. How many songs do you guys have on there?

Diego: Two songs and an intro.

JT: We're going to put that out as a split. Diego is going to do all the artwork. He's the artwork extraordinaire who does all our merch. He does all the new imagery. They're waiting on their masters. We're waiting on our masters. Boom! He's going to draw it. We'll send it to the press while we're writing new material. We're going to try to write some stuff with O'Neal (and split with his band Hexist).

Timmo: We're going to try to write stuff with each bass player.

O'Neal: The plan is to get a 7-inch from each one of us.

JT: And after that it will be a full-length record. We'll do a couple with Trans Am. We'll do a couple with O'Neal. We'll do a couple with Diego then see what happens from there.
Rex_84: Who are you going to release it through?
JT: We do everything ourselves. The band pays for itself. As long as you work hard enough and keep it pumping and don't let any of the money fly into the wind, so to speak, and you keep track of it, it can happen.
Rex_84: What can you tell us about the new material?
JT: It's heavier, faster, meaner, scarier and drunkener.
Rex_84: You premiered a video double feature, which actually contained three songs ("Let There Be Blood," "Blackout the Sun" and "Alphabitch," on Metalunderground.com on Metalunderground.com last year. How was that experience?
JT: We threw a party at Johnny's house for his birthday. We usually book shows for all of our birthdays. This time we just did it at our studio. We had some people behind it. They came and set up all the things. We put everything in a circle and went for it over and over and over again with strobe lights until we got dizzy. It was crazy.

Timmo: A whole room of forty people screaming to shut the damn lights off.

Johnny: Sonny from Born Loco put this on for our skateboard release.

JT: They couldn't wait. They liked the video so much they wanted to put it out.
Rex_84: That's all I have for this interview. Tell our readers why they should make sure to check out your set.
JT: Because it's going to be a party. We've got jokes. We've got metal. There's beer. There are fucking ladies.

Johnny: Goatwhore.

O'Neal: We're professional partiers.

JT: Plus, he's selling those drug pipes.

Timmo: You don't want to savor the show, come get a drug pipe (for tobacco use only).

Catch The Blood Royale on tour by themselves and with Goatwhore.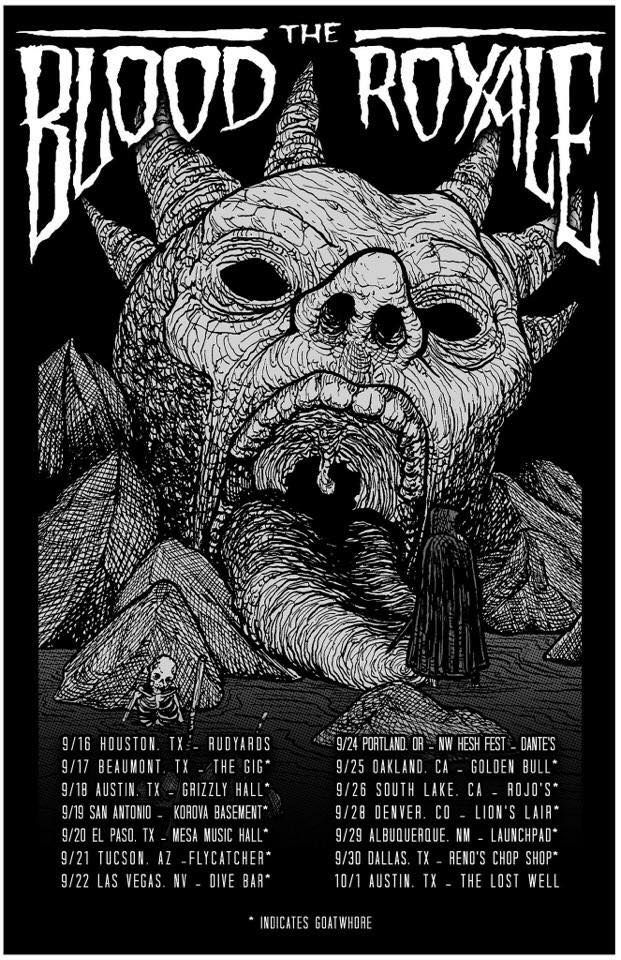 What's Next?
Please share this article if you found it interesting.
---
0 Comments on "The Blood Royale: Let There Be Blood on Tour"
Be the first to comment! Tell us what you think. (no login required)
To minimize comment spam/abuse, you cannot post comments on articles over a month old. Please check the sidebar to the right or the related band pages for recent related news articles.