Interview
Novembers Doom Vocalist Paul Kuhr Dishes On New Album "Bled White"
Band Photo: Novembers Doom (?)
Now approaching two full decades of releasing albums, the Chicago-based outfit November's Doom is stoked to be officially unleashing latest monstrosity and ninth full-length "Bled White," which is due out July 15th (pre-orders are available right here).
You can read our review of the release at this location, and now front man Paul Kuhr himself has also teamed up with Metalunderground.com to explain the ins and outs of creating an album of this magnitude.
Read the full interview below to see what Kuhr had to say about changing up the lyrical perspective on "Bled White," bringing on a new drummer since the release of the band's previous album, and what's been happening with Subterranean Masquerade.
xFiruath: It's been three years since the release of "Aphotic" - what's been happening with Novembers Doom between then and now?
Paul: Since the recording of "Aphotic," we had replaced Sasha Horn with Garry Naples on the drums, so this took some time to work with Garry in a live situation before beginning the writing process. So we took a year, and learned some old material with him, and played a few festivals and local shows before we were comfortable with each other, and ready to write. The following two years were writing, re-writing, and re-writing again until we were happy with the material for "Bled White." It's always a long process until we feel it's ready to record.
xFiruath: Fill me in a bit on the specifics of how this album came together in regards to the writing and recording.
Paul: It all begins with conversations. We do a lot of talking in this band, discussing the direction of the music, and where everyone's head is at musically at the time. We try to incorporate all that influence into the new material, while still sounding like "us." Once we all decide and start writing, we get about 4 songs in and then toss all that nonsense out the window, and then REALLY start writing the album. It takes time, we weed through a lot of crap. We get together as a group, but also a lot of individual work, with just Larry and myself, or Larry and Garry, hashing out ideas, getting things ready to present to everyone as a whole. We tend to second guess ourselves a lot, which is sometimes a very good thing.
xFiruath: What's happening with the lyrics on "Bled White" and do they follow a specific theme or cover a range of topics?
Paul: The lyrics for "Bled White" were quite a challenge this time. I went through some major life changes, and like the music, I wrote, and then tossed out and re-wrote most of the CD. I like being personal, but sometimes, it's too much and I have to dial it in. The year I wrote the lyrics were both the most depressing as well as the happiest years of my life, so it was a very strange mixture. I walked a fine line, and decided to remove any of the negative personal things, so I can actually enjoy the album for years to come, and not allow it to remind me of the miserable times. The theme this time is just that… I've been bled white. I have nothing left to give. It was time to move forward, and clear.
xFiruath: The "Bled White" cover art is sort of minimalist, but it still does a great job getting a strong concept across. Who created the art and what does it mean to the band?
Paul: I work closely to the artists we use. This time we went back to the talented Travis Smith, who understands us quite well. It's a personal image once again, and it represents the last year of my life. I love the minimal approach this time, and the void of color adds to the mood overall.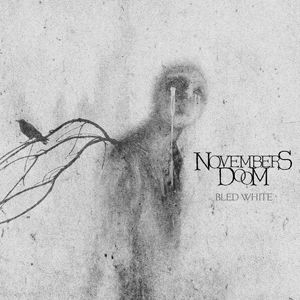 xFiruath: I've already listened to and reviewed the album, and personally I think it's some of the strongest Novembers Doom material I've heard, but I'd be interested in getting a band perspective. How do you feel the music has changed and what sets this release apart from previous albums?
Paul: One of the things we always set out to do, and I feel we have accomplished since day one, is to never write the same album twice. We never rest on our laurels and constantly push and question ourselves, and this is why I think we keep succeeding at this in our minds. We wanted to do something different, and really push the vocal melody to carry the hook this time. I believe I've accomplished some of my personal best work to date, and I feel this CD showcases some of Larry's best guitar solos he's recorded as well. For all the challenges, and doubts we had, if people would like this CD or not, I think the pay off is great. I love this record. It's in the top 3 for sure for us. We just keep getting better and better at what we do, and until we lose our focus on that, we'll hopefully keep up that same pattern.
xFiruath: This is your ninth full-length album and Novembers Doom has been around for about a stunning 20 years now! Did you ever think the band would come this far, and where do you think it's headed in the future?
Paul: Never. I never thought it would. I think about calling it a day constantly. I don't want to be that band where we are constantly whipping a dead horse. I know so many of those bands. I have no unrealistic goals, and I know where we stand in the grand scheme of things. I know the chances are very slim we will ever be bigger then we are right now, so I am so very thankful we get opportunities that most bands dream of. We play festivals like Graspop, and Brutal Assault. We have toured Europe in a headlining capacity numerous times, and we have enough fans who buy our music, and it's them who allow us to keep writing and recording. As far as the future… I can't answer that. "Bled White" could be the last, or maybe we record 5 more. I have no idea. We take this all one day at a time now, and since Novembers Doom is a glorified hobby, as long as the band can self sustain and we don't hemorrhage money from our personal account to make it happen, the future looks bright. That is unless, health issues get in the way. We have our share of those as well.
xFiruath: What's been going on with Subterranean Masquerade?
Paul: Subterranean Masquerade has written and recorded a new CD. I unfortunately bowed out of this band and chose not to be a part of the recording. I know who my replacement is, and you won't be disappointed. I have a new CD from These Are They coming out this year as well. Good old school Chicago death metal!
xFiruath: Where will Novembers Doom be touring or performing festivals in support of the new album in the near future?
Paul: We're playing The Doom in June fest in Las Vegas in June, and at the end of June we will be performing at Graspop in Belgium once again with Black Sabbath, and Slayer to name 2 out of MANY killer bands. We can't wait!
xFiruath: Are you guys active in your local music scene, and what's the state of metal there in Chicago these days?
Paul: We have many friends here and all of their bands work very hard to keep the scene strong. Great new bands, filled with young guys are coming up, and replacing us old farts. It's good to see. Some of them are very original, and some not so much, but there's always a good show in town to check out.
xFiruath: Other than your own album, what's on your musical rotation lately and there is anything coming out soon you are excited for?
Paul: Ha! Well, I listen to a ton of different music. So recently, I've been listening to Greg Laswell "I was going to be an Astronaut" and I'm really looking forward to the new Septic Flesh "Titan." Triptykon is getting a lot of play, as well as Carcass and Vallenfyre.
Ty Arthur splits his time between writing dark fiction, spreading the word about underground metal bands, and bringing you the latest gaming news. His sci-fi, grimdark fantasy, and horror novels can be found at Amazon.
What's Next?
Please share this article if you found it interesting.
---
0 Comments on "Novembers Doom Dishes On New Album 'Bled White'"
Be the first to comment! Tell us what you think. (no login required)
To minimize comment spam/abuse, you cannot post comments on articles over a month old. Please check the sidebar to the right or the related band pages for recent related news articles.