Dying Fetus To Tour With Exhumed, Devourment, And More In North America
Band Photo: Exhumed (?)
Death metal powerhouse Dying Fetus has announced a North American headline tour for this fall. The tour is presented by Metal Sucks and Converse and kicks off October 5th in Wilmington, NC, running through November 2nd in Springfield, VA.
The tour features support from label mates Exhumed and Devourment, as well as Waking the Cadaver (10/4-10/19), Abiotic, and Rivers of Nihil (10/26-11/2).
Special VIP packages that include a general admission ticket, an exclusive Dying Fetus "herbal grinder," a meet and greet with the band, limited edition 20 Year Anniversary Poster, and VIP souvenir laminate will be available for purchase here. General admission tickets go on sale this Friday.
It has also been confirmed that Dying Fetus has re-signed with long time record label Relapse Records. The band commented on the signing:
"We have an addiction and have relapsed with Relapse Records. Relapse Records will remain your one stop shop for all things Dying Fetus. Re-signing with Relapse Records seemed like the right thing to do for the band as both Dying Fetus and Relapse Records have grown over the years. So our fans can look forward to more brutality from both parties."
The band will also return to Europe this summer. The tour begins July 24th in Slovenia and runs through August 18th in France. A full list of tour dates can be found below.
European Tour
7/24: Slovenia Tolmin @ Metaldays Fest
7/25: Italy Point @ Neumarkt
7/27: Holland Steenwijk @ Stonehenge Fest
7/30: Russia Moscow @ Plan B
8/1: Ukraine Evpatoriya @ Metal Heads Mission Fest
8/3: France Albi Carmaux @ Xtreme Fest
8/5: Germany München @ Free & Easy Fest
8/6: Austria Dornbirn @ Schlachthof
8/7: Austria Wien @ Viper Room
8/8: Czech Rep Jaromer @ Brutal Assault Fest
8/9: Germany Schlotheim @ Party San Fest
8/10: Switzerland Hüttikon @ Meh Suff! Metal-Fest
8/11: UK Catton Hall @ Bloodstock Fest
8/12: UK London @ Barfly
8/13: France Paris @ Nouveau Casino
8/14: Germany Trier @ Exhaus
8/15: Germany Dinkelsbühl @ Summer Breeze Fest
8/16: Germany Oberhausen @ Helvete
8/17: Belgium Méan @ Metal Méan Fest
8/18: France Saint Nolff @ Motocultor Fest
North American Dates:
8/23: Clifton Park, NY @ Trick Shot
8/24: Hamilton, ON @ @ Club Absinthe
8/25: Montreal, QC @ Les Foufounes Electriques
8/26: Rimouski, QC @ Le Cactus
8/27: Quebec City, QC @ Imperial
8/29: Sherbrooke, QC @ Le Magog
8/30: Jonquiere, QC @ Place Nikitoutagan
9/2: Ottawa, ON @ Maverick's
9/3: Providence, RI @ King of Clubs
North American Headline Tour:
10/5: Wilmington, NC @ The Soapbox
10/6: Orlando, FL @ Back Booth
10/7: Tampa, FL @ The Orpheum
10/9: Houston, TX @ Fitzgerald's
10/10: Austin, TX @ Red 7
10/11: Dallas, TX @ Trees
10/12: Oklahoma City, OK @ Chameleon Room
10/13: Santa Fe, NM @ Warehouse 21
10/14: Tempe, AZ @ Rocky Point
10/15: Santa Ana, CA @ Observatory
10/16: W. Hollywood, CA @ The Whisky
10/17: San Francisco, CA @ DNA Lounge
10/18: Portland, OR @ Branx
10/19: Seattle, WA @ Studio Seven
10/20: Vancouver, BC @ Rickshaw Theater
10/22: Calgary, AB @ Republik
10/23: Edmonton, AB @ Pawn Shop
10/24: Regina, SK @ Riddell Centre
10/25: Winnipeg, MB @ Park Theater
10/27: Chicago, IL @ Reggie's
10/29: Cleveland, OH @ Peabodys
10/30: Poughkeepsie, NY @ Chance Theater
10/31: Worcester, MA @ Palladium
11/1: New York, NY @ Gramercy Theater
11/2: Springfield, VA @ Empire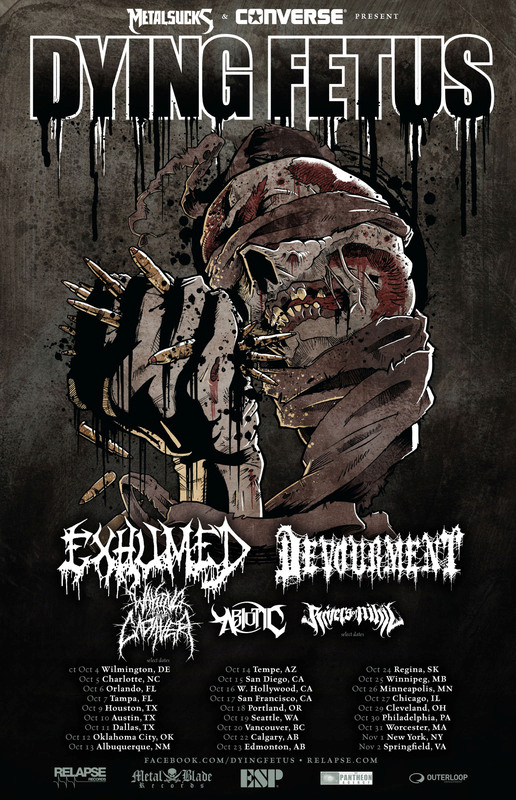 What's Next?
Please share this article if you found it interesting.
---
To minimize comment spam/abuse, you cannot post comments on articles over a month old. Please check the sidebar to the right or the related band pages for recent related news articles.