Gorguts Announces New Album "Colored Sands," Headlining Tour Dates
As was announced back February, death metal pioneers Gorguts have rejoined the Season of Mist roster.
The band's forthcoming new album is entitled "Colored Sands" and will hit stores on August 30th (September 3rd in North America). Founding member Luc Lemay and his boys also announced a string of headlining shows leading to and from this year's Hopscotch Festival. The U.S. trek, which begins on September 5th in Springfield VA, will travel through the Hopscotch Festival before ending on September 8th in Worcester, MA.
Season of Mist also comments:
"Few extreme bands have the pedigree of Gorguts. From their early days as part of death metal's first wave (including legendary releases 'Considered Dead' and 'Erosion of Sanity'), through their transformation into one of the most progressive and influential bands in extreme metal, Gorguts has been impervious to trends, and a vehicle to expand and redefine the language of extreme metal.
"The band's 1998 album 'Obscura' sent a shockwave through the death metal world, and remains one of the genre's most influential records to this day. Taking inspiration from classical composers, Lemay's use of atonal noise and sounds as part of his compositions helped reinvent extreme metal guitar playing. Lemay's techniques on 'Obscura' continue to be a major influence for young metal players.
"After a hiatus following 2001's 'From Wisdom to Hate' (released on Season of Mist in Europe), Lemay reformed Gorguts in 2008. The band returned to the live circuit for the first time in over 10 years as main support for the legendary 'Death To All' tour in 2012, and followed it up with a handful of European festival dates, including MetalCamp, Brutal Assault Festival, Rock Im Betwonwerk, Metal Mean Festival, and more."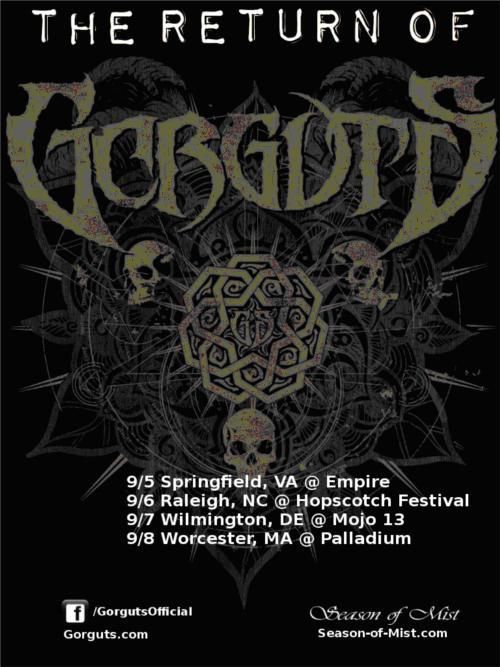 What's Next?
Please share this article if you found it interesting.
---
To minimize comment spam/abuse, you cannot post comments on articles over a month old. Please check the sidebar to the right or the related band pages for recent related news articles.