Interview
Children Of Bodom's Alexi Laiho Discusses New Album "Halo Of Blood"
Band Photo: Children of Bodom (?)
Finnish melodic death metal superstars Children of Bodom are on the verge of releasing an eighth full-length album via Nuclear Blast. "Halo of Blood" is due out June 11th, and in anticipation of the release front man Alexi Laiho was recently in the U.S. to talk up the album and the band's pending appearance on the Rockstar Mayhem Festival.
"Halo of Blood" is being touted as a return to form, echoing the atmosphere of early albums such as "Follow the Reaper" and "Hatebreeder," which are widely regarded as some of the band's best material.
I got the chance to ask Alexi himself about how the album stacks up to previous releases and how the band will continue its infamous trend of covering non-metal tracks. See what he had to say in the interview below.
xFiruath: How's your trip to the U.S. going, and weren't you at the Revolver Golden God Awards?
Alexi: Yeah. It's going, you know, I'm staying here in L.A. and figured I might as well have a couple of promo days here. Otherwise I'm just chilling pretty much, getting ready for tours.
xFiruath: For the new album "Halo of Blood," how did this writing process go?
Alexi: The song writing process was pretty much the same as always. I started writing songs in early September and we hit the studio in December and the whole thing was mixed and mastered at the end of January. That's basically it, I sat down and wrote songs and took it to show the guys and we started jamming on the riffs and put it together as a group.
xFiruath: What studio did you record at and did you do anything different this time around?
Alexi: As far as recording, everything was pretty much the same, except we recorded in Helsinki, Finland at our rehearsal space. We have a studio there for demos and stuff so we figured we might as well record the album there too, except for the drums, they were recorded at a different studio up north in Finland.
xFiruath: I've heard the "Transference" single but haven't dug into the whole album yet. How do you think the whole album sounds when compared to the last full-length release?
Alexi: It's very diverse. I can tell you what I've heard from people. They say there's a lot of elements from the early days of COB, the first three albums or so like there's a "Hatebreeder" or "Follow the Reaper" vibe going on there. With an updated sound we get the fastest song and the slowest song in the history of the band on the same record, there's a lot of new shit in there too. I'm very happy with the album and I just want to get the damn thing out already.
xFiruath: Were there any extra tracks to be released down the line, and did you do any covers this time?
Alexi: No extra tracks, we never do actually. As far as covers yeah, we have "Cruel Summer" by Bananarama, which will be funny for sure. Then "Sleeping in my Car" by Roxette, then we did another cover for the Japanese edition, so there's three covers.
xFiruath: I'd like to hear your thoughts on the album cover with the reaper in the snow – does that tie in strongly with the lyrics?
Alexi: It was the same Finnish guy Sami Saramäki who did "Hate Crew Deathroll" and "Blooddrunk" as well. We actually started working on the album cover before the songs were written, so it has nothing to do with the music or lyrics, but it definitely goes hand in hand with the music in general. I'd say the whole album has a pretty dark vibe, so the cover is perfect for it.
xFiruath: Where is Children of Bodom headed out to support "Halo of Blood?"
Alexi: We're going to do European festivals starting from early June, then the Mayhem festival tour in the States. After that we go to Japan and then a full European tour which is like nine and a half weeks long, so it's going to last pretty much till the end of the year. Next year is basically just non-stop touring.
xFiruath: Although Children of Bodom is a big band that likely takes up most of your time, are any of you doing anything on the side these days?
Alexi: I don't, I live and breathe for Children of Bodom and nothing else, but our keyboard player has his Warmen project that has a few albums and it's something he doesn't have to stress about. I think he's the only one though.
xFiruath: Tell me about what you personally are listening to in music lately.
Alexi: I've been listening to a lot of old school black metal, stuff I grew up with as a teenager like old Emperor and Satyricon and stuff like that. But then you know the next day I listen to Danger Danger and Poison, so it changes a lot.
xFiruath: I'd be interested to hear what you think of the Finnish metal scene, and do you get a chance to play your local area?
Alexi: Not very often, I'd say we play Finland maybe twice a year. It's a small country and there's only like four cities we can play. But this time around we'll do a lot of festivals. As far as the metal scene, it seems to be growing all the time. There's a lot of pagan or folk metal or whatever the fuck it's called that's really big. Finnish bands have gotten a lot of recognition in Europe. The metal scene just keeps on growing, which is pretty awesome.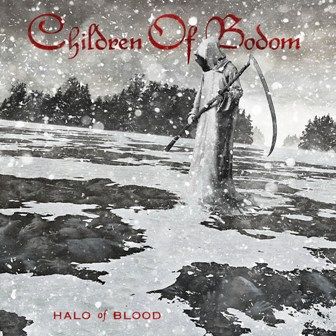 Ty Arthur splits his time between writing dark fiction, spreading the word about underground metal bands, and bringing you the latest gaming news. His sci-fi, grimdark fantasy, and horror novels can be found at Amazon.
What's Next?
Please share this article if you found it interesting.
---
To minimize comment spam/abuse, you cannot post comments on articles over a month old. Please check the sidebar to the right or the related band pages for recent related news articles.